Vivo is considered a brand by most people as a company that makes smartphones focused on selfies only. In India, one after another, there have been launches of new smartphones from Vivo and all of them had this claim of 'selfies'. While many people happily pay for the devices, some object because the phones have relatively less powerful hardware and are priced higher than many other phones with similar or better hardware. But, in the last few years, Vivo was developing a lot of this and finally, the hard work paid off in the form of Vivo NEX. Vivo NEX is a complete trendsetter and a pioneer device which will set the bars higher for even brands like Apple or Samsung. I was lucky enough to use the phone for quite some time and today I will tell you about it and for me, it is the most futuristic smartphone right now in the middle of 2018.
This time, Vivo has not done a lot of cost-cutting either have bottlenecked the Vivo NEX, keeping in mind that this is the time they have to bring a change. Powered by the Qualcomm's Snapdragon 845 processor, coupled with 8GB of RAM, with dual rear camera setup and the beautiful design, the Vivo NEX is close the being one of the most beautiful phones out there that you would want to buy.
The display is something which is the reason why Vivo has made so many changes in design, moving away from general smartphone design and philosophies. The Vivo Nex sports a massive 6.59-inch Full HD+ AMOLED panel which is packed in a body that hardly larger than that of a Pixel 2 XL. The bezels are as thin a 1.71 mm on the sides and good news for notch haters – There is no notch; instead there is a very thin 2mm bezel on top. So, how does the front camera work? We will talk about it a bit later. But overall, the display is beautiful to look at as there are deep blacks, well-saturated colors and good viewing angles. Pixel density isn't at the higher point on Vivo NEX at 338ppi, but most people might not even realize this!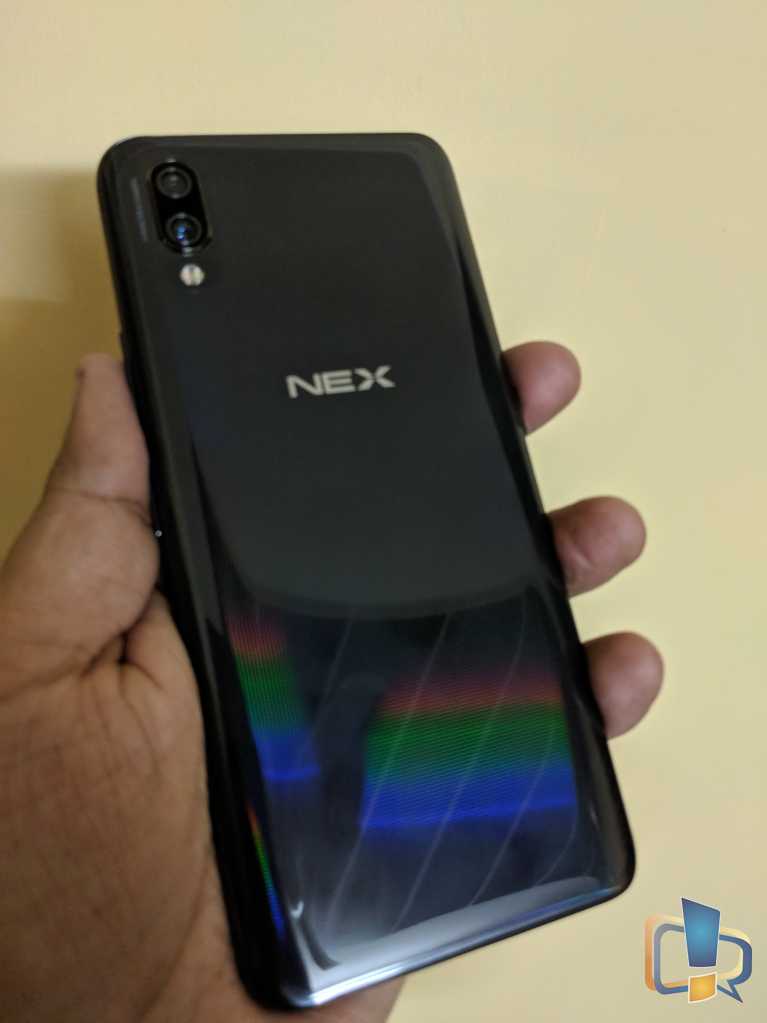 The display is the main reason, why the Vivo NEX has a different design. As mentioned, there are very small bezels and the front of the phone looks all-display with no sign of front-facing camera, speaker or fingerprint scanner. On the back also, you can't find the fingerprint scanner. So, here's where Vivo has truly proved their innovation.
https://www.instagram.com/p/Bl1_oFMljO3/
Vivo has put the front-facing camera inside the phone that is placed in a chassis, that is movable using a small motor and whenever I switched to the front facing camera, that particular block will pop up from the top edge of the device and well it's definitely faster than the front-facing camera of Mi Mix.
https://www.instagram.com/p/BlISKVIlRgH/
I say this based on my experiences with both the devices as with Mi Mix, I would always have to flip the phone upside down to take a selfie which definitely takes longer than this front camera, popping out of Vivo NEX. The back of the phone has just the dual camera setup and the flash, and so the fingerprint scanner is actually placed under the display. This is a revolutionary technology that only Vivo has showcased in a consumer product till now.
The fingerprint scanner area lights up to read the fingerprint and well, though it's not the fastest one when compared to other phones, I wouldn't complain or whine about it on social media, because this is the first of its kind and it has definitely got the SWAG you want, when you want to go in fight with a Samsung or Apple fan and show some of the futuristic features it packs!
Also Read: Vivo Reveals AI-Powered Super HDR
In the audio department also, there are changes made solely for that giant display. Instead of a typical smartphone speaker there is a vibration motor that can transmit sound through the entire display and well it was fun to use the device during calls, just accept the call and place your ear anywhere on the display to hear the person's voice from the other side. This trick works perfectly. For music and entertainment needs, there is a bottom-firing speaker that is loud enough with a lot of bass (I mean it). On Vivo NEX, there is a headphone jack (Feeling sorry for iPhone fans) and the combination of the V1 chip and built-in DAC ensured great audio experience whenever I plugged in a good pair of headphones.
Performance
I sometimes complain about performance issues while gaming on some of the phones made by the same company but that's not the case with this one. Throw anything at it and it will handle everything without lags or hiccups! Snapdragon 845 with Adreno 630 GPU and 8GB RAM work together to provide a great experience. There is almost nothing to talk about or I couldn't just find a flaw in the performance, plus there are no heating issues.
Camera
Vivo NEX has a dual camera setup on the back and though it is not able to beat the Pixel 2 XL yet, I was a bit surprised. Vivo has sprinkled some AI features in the camera app. There are a few modes that depend on the AI to tweak the photos – AI beauty mode, AI scene detection, AI HDR and AI Filters.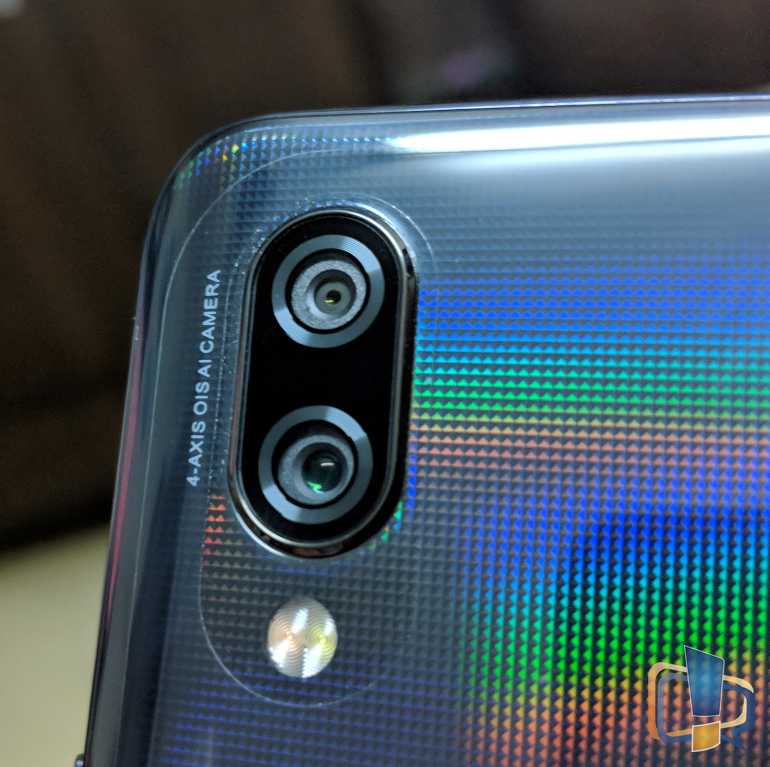 The main highlights are definitely the AI scene detection and AI HDR. The main camera on Vivo NEX is a 12MP f/1.8 sensor with 1.4-micron pixels and there is a 5MP f/2.4 lens with both OIS and EIS, which is damn good in my opinion because hardware dependant stabilization (OIS) mixed with EIS always makes sure that the videos recorded with the phone are jitter and shake free. The camera is capable of recording 4K videos at 30fps, 240fps slow-mo at 1080p. The AI Scene Detection is great for people like who like well-saturated shots as I have seen that Vivo NEX automatically bumps up the saturation levels in landscape and macro shots, however, sometimes it bumps up the bright colors a little more than the desired level.
The daylight shots are really good – The photos have a lot of detail and sharpness, highlights and shadows. Even in low light, the Vivo NEX takes some nice shots, eliminating noise but maintaining sharpness. The AI HDR on Vivo NEX is helpful in most situations but where there is a very sharp boundary between the light and the dark, the photos seemed to be a bit overexposed.
The front-facing camera is also a nice treat for selfie lovers offering portrait mode with a single lens. The selfies taken with the front-facing camera are good and due to HDR, the photos look perfectly balanced but not as sharp as the photos taken using the rear camera. Probably this is due to the softening done by the AI Beauty. However, given that it's Vivo's first attempt in many experimental features, there are very few things to complain about.
Battery
Also, with a 4000mAh battery and a Super AMOLED screen, it has an outstanding battery life. The fast charger supplied with the device is quick enough to top up the phone within half an hour and get going.
What do I think about it?
I wouldn't like to talk much about price and money factors here. There are phones like OnePlus 6 or Zenfone 5Z which also have top-notch hardware and features, but are priced way lower. But I'm talking just about innovation and futuristic features, which Vivo NEX truly packs inside it and offers a completely different experience to anyone who uses the phone for the first time. The camera on the phone is great, the performance is buttery smooth and for that pop-up selfie camera and in-display fingerprint scanner, it is worth the extra money a user looking for innovation and a stunning design pays to the brand.