Readers Rating

Rated 3.3 stars




3.3

/ 5 (

Reviewers

)

Very Good
₹59790 to ₹149790
---
LeEco India today launched their first ever EcoTV based on Android OS. Basically, it's a smart TV, with inbuilt entertainment ecosystem. The Ecosystem TVs launched today are Super3 X55, Super3 X65, and Super3 Max65, and all of them supports 3D display. With these, LeEco is all set to revolutionize the TV viewing experience for Indian users by pricing these TVs at indisputably disruptive prices.
LeEco Smart TV Launched with Android OS, 4K Display, and 3D Support
On 26th July, with the acquisition of American TV maker VIZIO, LeEco is ready to expand their TV business globally. With the release of Super3 series TV's, LeEco has aimed to capture a user base by offering the best-in-class experience of internet ecosystem TV.  LeEco has also seen good growth in India by selling 0.75 million smartphones in India in a year, which is a great number for a new company in India and they also launched their own e-commerce marketplace LeMall a few months back. With the launch of SuperTVs, LeEco has brought together key elements of its ecosystem model in India, including devices, content, applications and platform.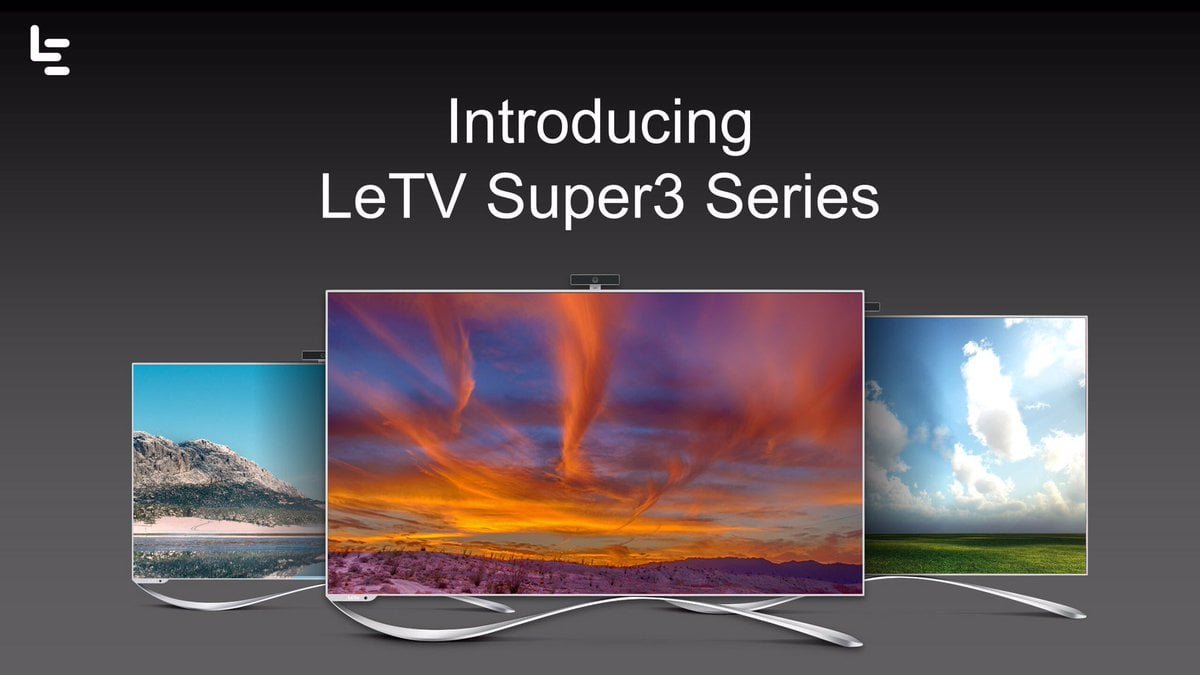 Features of SuperTVs from LeEco
LeEco's exemplary 3D model i.e. Super3 Max65 adds a new dimension to 3D experience on TVs. It's polarized 3D feature will eliminate the major discomforts such as blurring and dizziness, which users face while watching 3D content. The 3D glasses that comes with LeEco Super3 Max65 are of good quality and are comfortable to wear. We tried those at the launch event, and overall 3D viewing experience was good.
At the center of these Super TVs is the LeEco EUI 5.5 user interface, which is at the heart of LeEco's product development philosophy. The Ecosystem UI brings with it the option of customizations that shows different apps depending on the frequency of use. The TVs are equipped with LeEco's self-developed apps and renowned content-viewing apps such as Levidi, LIVE, LeView along with other tailor-made apps like Panosearch.
The @LeEcoIndia Smart TV remote.. Everything about it #TheFutureisBig pic.twitter.com/HGifS721q6

— Ankit Chugh (@luckyankit) August 4, 2016
Making the user experience, all the more comprehensible is LeEco's Super Remote Control 3.0 which is the handiest and smartest remote in the market. The four-direction navigation buttons help users easily access different applications and functions. Users can also use it as an air mouse or gamepad to control multiple devices connected to the SuperTV. Furthermore, users can also use LeEco remote control app available in LeEco smartphones to operate the TV.
Perfectly complementing the Super TVs is the Yoga stand, that comes free of cost with them. The unique curvaceous stand contrasts well with the straight-line design of the TV set. It is distinctive, high-quality, and aesthetically pleasing, allowing the TV to be placed both firmly and beautifully.
LeEco Supertainment membership extends to bigger screens
LeEco SuperTVs will change the way users consume content on televisions. All three Super TVs will give access to one of the largest content libraries in India. Users can enjoy at least 2000 Full HD/HD films from Hollywood and Bollywood, more than 100 satellite TV channels, 3.5 million songs (coming soon by software upgrade), and more than 50 live concerts.
With SuperTVs, users will also get access to a cloud storage of 5TB with strict privacy protection, so users can store pictures, capturing memorable moments on the cloud and share them conveniently with family and friends.
Better Than Industry Standard Warranty
After-sales service of TVs is another pain point for users as most products generally have a rather short warranty period. Once the TV hits the warranty, repairing becomes a frequent and challenging task. While one year is the industry standard for a new television warranty, LeEco doubles the industry standard by providing Super3 series a 2-year product warranty. Also, since the most easily damaged and expensive TV component is the panel, hence, LeEco Super3 series' standard panel warranty will cover users for a full 4 years, while the industry standard for panel warranty is just 1-2 years.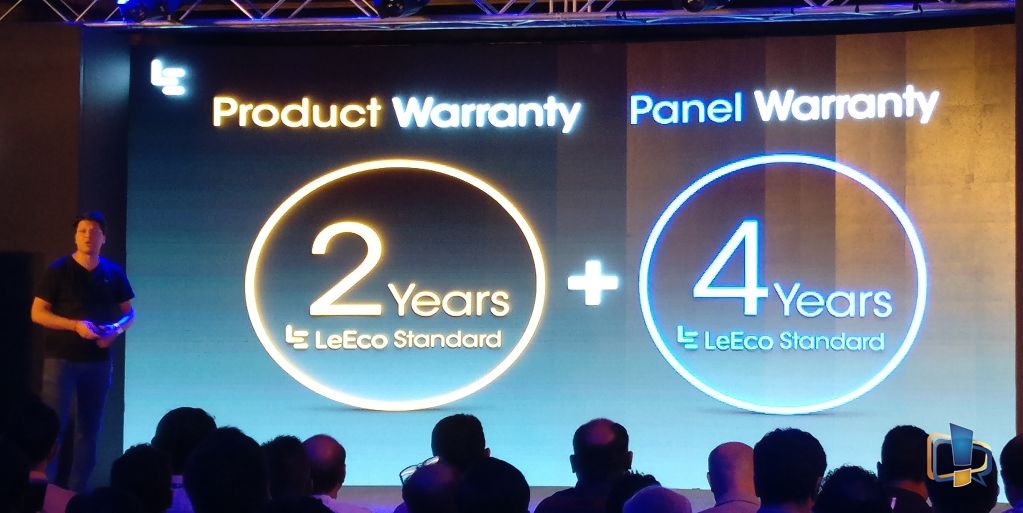 LeEco's extensive after-sales service network in India will over 333 outlets at a convenient location is another advantage for users. Additionally, users will have access to the 24×7 call center, offering services in nine languages.
LeEco SuperTVs Pricing and Availability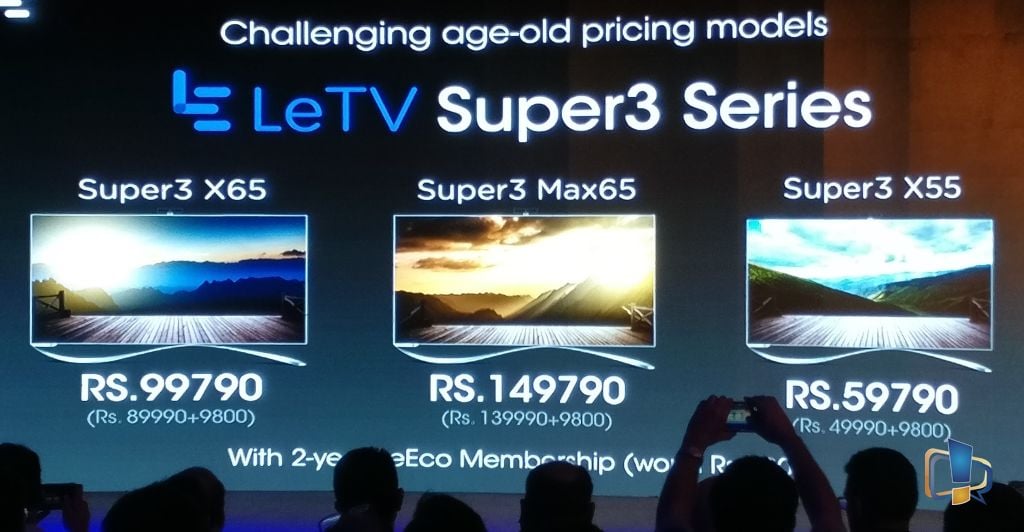 The SuperTVs by LeEco pricing is highly competitive considering the current prices from other manufacturers as of now. Pricing is as follow:
LeEco Super3 X55  – 139.7 cm (55inch) (The Flagship model) is priced at Rs. 59,790.
LeEco Super3 X65 – 163.9 cm (65inch) is priced at Rs. 99,790.
LeEco Super3 Max65 – 163.9 (65inch) is priced at Rs. 149,790.
All three SuperTVs comes with 2 years of LeEco membership worth Rs. 9,800.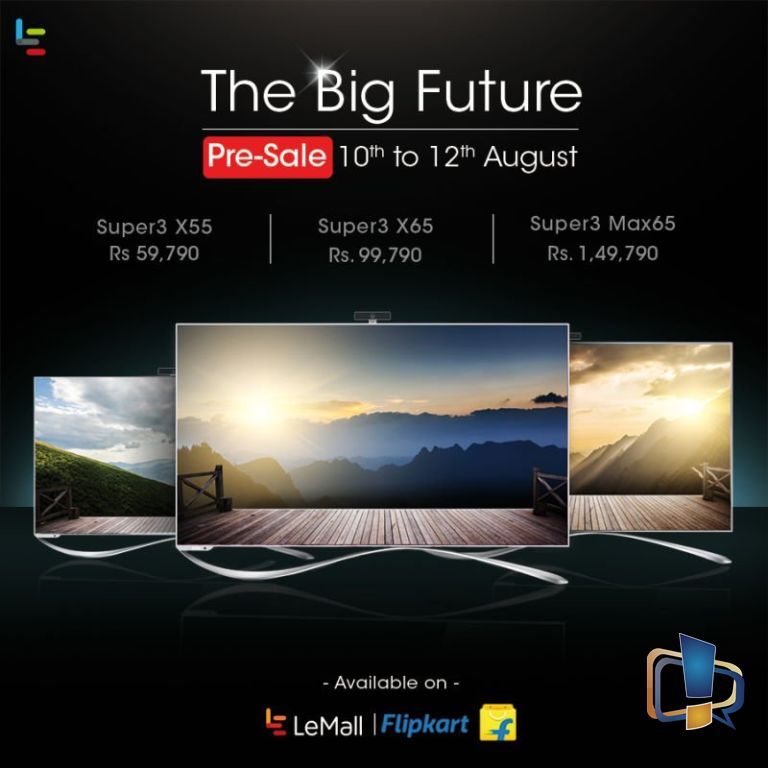 SuperTVs will be available to users through LeMall and Flipkart. Pre-sales on both platforms will be held from 10th to 12th. Offers on the two platforms include Rs 5000 cash back from HDFC bank card, EMI option, and many more offers.
LeECo TV (r) Evolution since 2012
September 9, 2012
LeEco announces its foray expansion into the Internet TV industry.
May 7, 2013
LeEco launches the X60 and S40 Super TV, first internet company to own a TV brand.
April 9, 2014
Redefines 4K TV experience with the launch of Eco-system of 4K content and online platform called Le4K.
July 3, 2014
Sales number of LeEco Super TV reached one million after just a year on the market.
September 19, 2015
Sells 382,000 TVs during the "Black 919" shopping festival; becomes the third biggest online shopping event in China.
September 24, 2015
Third generation Super TV launched in HongKong; first new market outside of mainland China.
October 27, 2015
Launches largest 3D and 4K TV in the world – the 120inch "King of TV" uMax 120
11 November, 2015
LeEco sold more than 386,000 TV during the "Single's day" online shopping festival
14 December, 2015
Becomes the second biggest shareholder of world-leading TV maker, TCL Multimedia
25 December, 2015
LeEco successfully completed the annual sales goal of three million and set the target of 2016 at six million
05 January, 2016
Reveals Super TV concept Max65 Blade at CES, Las Vegas. At 3.9mm, it is the thinnest LCD TV in the world.
14 April, 2016
LeEco sold over 549,000 Super TV during the "414 Shopping" festival
26 July, 2016
LeEco announced acquisition of leading American TV company VIZIO with US$2 billion
Pros
Elegant on the outside, power-packed inside:

A strong all-metal body that exudes elegance and sophistication
Quad-core Cortex A17 CPU, a quad-core Graphics Processor and a top-of-the-line 60 fps 4K video decoder, enabling smoother playback, faster decoding and accurate computation.
3GB of RAM and 16GB of internal storage guarentee smooth streaming and image clarity while multitasking.

Best-in-class display quality

4K Ultra HD display with 8.29 million pixels ensuring a crystal-clear viewing experience.
In-plane Switching, 178 deg wide viewing angle, which will not let you miss a thing.
Wide color gamut of up to 85% NTSC, resulting in more vivid image.
MACE PRO4 picture processor, making noise reduction a cinch.

An audio Expereince like never before

Dolby Audio and DTS premium sound ensure an ultimate music and entertainment expereince.
High-fidelity sound quality enables users to enjoy a cinema-like audio expereince from the comfort of their living rooms.

Future-proof

Mutli-purpose ports that are compatible with extensive external multimedia devices, meeting the needs of different family members.
High-speed USB 3.0 port which is 10 times faster than USB 2.0, ensuring fast copying of videos, quick display of pictures and the support of a wide variety of audio, image and video formats.
LeEco Smart TVs
Summary: LeEco India today launched their first ever EcoTV based on Android OS. Basically, it's a smart TV, with inbuilt entertainment ecosystem. The Ecosystem TVs launched today are Super3 X55, Super3 X65, and Super3 Max65, and all of them supports 3D display.
₹59790 to ₹149790
Rated 3.3 stars
3.3

/ 5
(

Reviewers

)