Readers Rating

Rated 5 stars




5

/ 5 (

Reviewers

)

Spectacular
---
In the presence of 2000 people, LeEco announced their long-awaited smartphones i.e. Le 2 and Le Max 2 along with their official marketplace, LeMall. Along with this, LeEco also revealed the world's first CDLA (Continual Digital Lossless Audio) Type-C earphone. Pricing of Le 2 is Rs 11,999, Le Max 2 is Rs 22,999 for 4GB + 32GB ROM and Rs. 29,990 for 6 GB + 64 GB ROM variant. Type-C CLDA earphone of LeEco is priced at Rs. 1,999. Each smartphone will come bundled with 1 year of LeEco membership. At the event, LeEco's official song was also revealed, specially composed and produced by Pritam's studio Jam8 and sung by Nakash Aziz.
LeEco Launched Le 2, Le Max 2 Smartphones along with LeMall e-comm Store
As the next generation phone, Le 2, with a standard combination of 3GB RAM and 32GB ROM, is greatly improved from its predecessor. Powered by the Octa-Core Qualcomm Snapdragon TM 652. Le 2 provides a 16MP rear camera and 8MP front camera. The image quality is visibly better with vibrant and true-to-life colors. With technologies like PDAF, Closed Loop, and other ground-breaking technologies, people can catch clear pictures in moving and unfavorable conditions.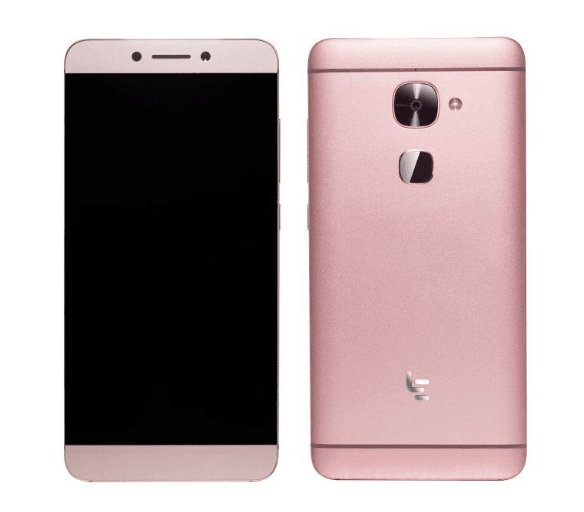 Le 2 has an In-Cell display screen which is usually featured with overpriced phones. The screen's blue light filter helps reduce eye fatigue, while at the same time, the in-cell screen allows devices to be thinner and lighter.
It is also important to note that in addition to 3G, LTE, and GSM, Le 2 supports all 4G bands in India and also will have VoLTE very soon over an OTA.
Besides Le 2, LeEco also released 2 versions of the 2nd generation of Le Max, which is Le Max2. Powered by the world's most powerful processor, Qualcomm Snapdragon TM 820, the phone, featuring the high-performance combination of 4GB RAM + 32GB onboard memory or 6GB RAM + 64GB onboard memory, pushed the limits of the industry to new heights. With a RAM three times that of the iPhone 6s Plus, Le Max2 (6G+64G) is 40% faster performance than most competitors' models, and is also 17% faster than its predecessor, Le Max.
Le Max2 features a 5.7 inch 2K Super Retina Display, the best display for VR Equipment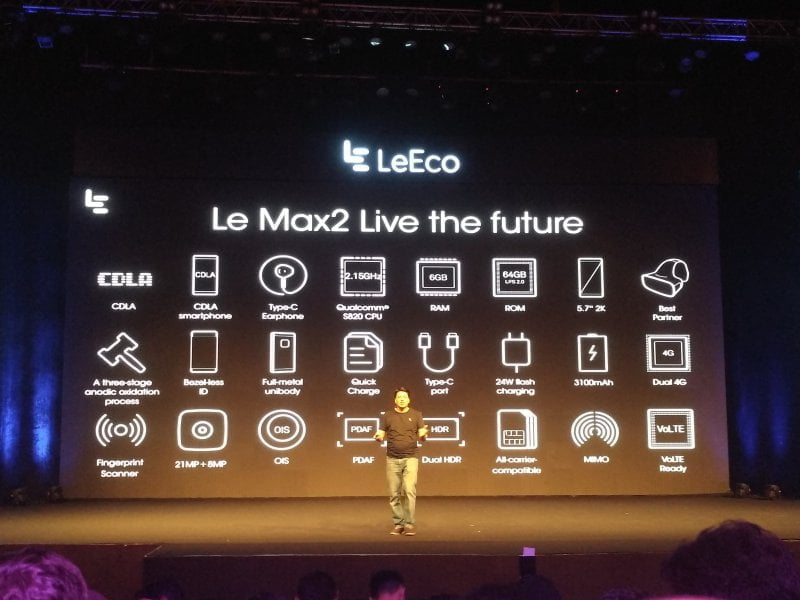 Its 21MP rear camera comes with fast focusing speeds thanks to PDAF technology; it also has an F2.0 aperture with OIS for blur-free images even in low light. The rear camera on Le Max2 shoots pictures with great clarity thanks to improved components or technologies like 6P lens, PDAF, Closed Loop, OIS, Dual HDR and Dual-tone flash and so on. The Le Max2 is also equipped with an 8MP front camera.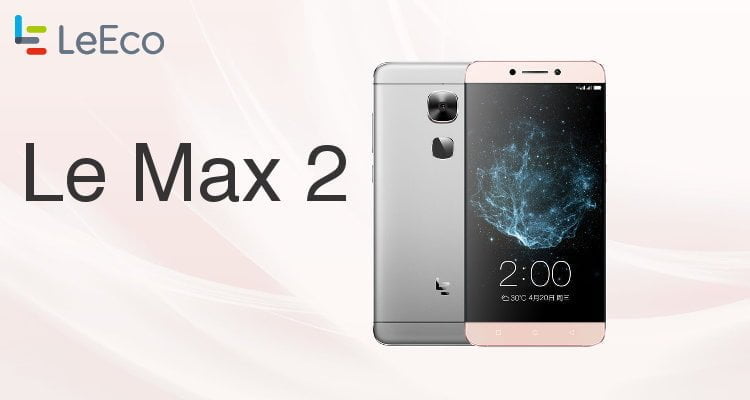 Le Max2 also enjoys a super-fast 802.11ac Wi-Fi connectivity. It has dual-band and dual-antenna, which means Le Max2's Wi-Fi speeds are much 4 times faster than most of its competitors, who are on the Wi-Fi 2.4G band and twice as fast as those on the Wi-Fi 5G band.
Tin Mok, VP of Le Holdings and CEO, APAC, said, "Today is an extremely important day for us in our India journey so far. It marks our entry into the thriving e-commerce industry with the launch of LeMall. Addtionally, we are thrilled to bring our second generation Superphones with supertainment to India. Also, we're happy to have achieved a significant milestone by pioneering digital lossless sound experiences. As forerunners in bringing the breakthrough technology as well as great features at a disruptive price, we remain committed to bringing best-in-class devices and services to our users in India."

Atul Jain, COO, Smart Electronics Business, LeEco India, unveiled the 2nd generation of Superphones, calling them "redefine product value". "LeEco is ushering into the ET Era, or what we call Ecosystem Technology Era. It's time to end the practice of taking the consumers a ride and put an end to profit-oriented business models, but actually redefine product value."

"We are focusing on the Eco Model, an integration of software, content, services, applications and hardware."
Phones bundled with Supertainment ecosystem and membership program
LeEco has also made impressive additions to its Supertainment membership program. In the coming months, through LeEco Membership program, users can get access to a collection of 2000+ movies. LeEco is all set to have the largest collection of blockbuster and award winning movies from across the world including top Regional Cinema from India – across Hindi, Tamil, Telugu, Marathi & Bengali films. Meanwhile, the program provides 3000+ hours of curated shows, 150+ live TV channels and 3.5 million songs for users' choices. LeEco takes the lead in offering 1.9 million songs with lossless audio, bringing the users' audio experience to a brand new height.
With LeEco's Premium Membership program, users can enjoy premium content, exclusive discounts, a 5TB LeEco Cloud Drive Storage, live music & concerts with Lossless Audio, exclusive giveaways and offers, special events with celebrities and top entertainment talents and many more. Starting from this month, LeEco will also give members access to more than 50 online international live concerts.
World's first CDLA Standard to disrupt age-old industry norms
Through the new Superphones, LeEco has replaced the 3.5mm headphone port with the world's first CDLA Type-C interface, leading an audio revolution to the earphone industry that remains the same for decades in India. As an industry pioneer, LeEco introduced a new digital architecture, CDLA technology that enables end-to-end lossless digital music transmission, the world's first continual digital lossless audio standard. The two Superphones Le 2 and Le Max 2 are all set to redefine the smart phone audio technology world.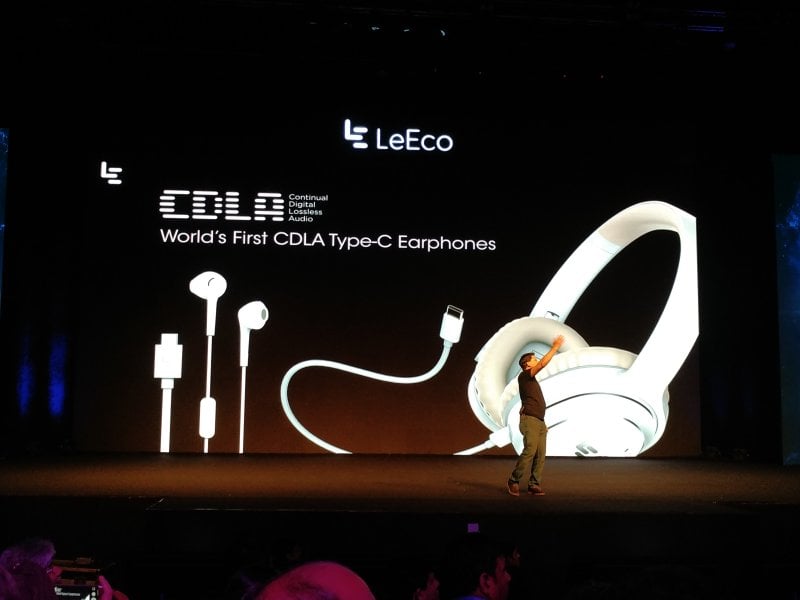 Also Read: The Race of Future Sounds Has Started with CLDA in LeEco Phones
CDLA is quite intelligent. Every pair of CDLA earphones has its own independent ID, so it knows who is using it and what recommendations and preferences it can offer to the user, seamlessly integrating with LeEco's ecosystems.
To showcase the revolutionary CDLA technology, the song composed by the Jam8 studios was recorded on two devices, one with the existing Hi-Fi audio capability and the other with the CDLA technology. The difference was unparalleled and the music experience from the device with CDLA technology was premium and seamless. LeEco has also unveiled the world's first Type-C CDLA Earphones which consumers can get access to at a price of only Rs 1,999.
The launch of LeMall to complete an ecosystem approach
With the launch of LeMall, its marketplace e-commerce website, the company has marked its venture into the e-commerce space in India. LeMall.com, first launched in Mainland China in 2013, is not only a leading online shopping destination in China but has also proved a force to be reckoned as highly successful during LeEco's initial global expansion thus far, to the United States & Hong Kong. Both Le 2 and the Le Max2 will be available on Flipkart and LeEco's very own marketplace e-commerce website LeMall.com soon.
Pricing for Le 2 and Le Max2 together with LeEco's membership Program
For Le 2, the 3GB RAM and 32ROM combination smartphone come at a price of Rs 11,999, including one year membership, which is worth Rs 4,900 if purchased alone.
For Le Max2, the 4GB+32GB model will cost Rs 22,999, and the 6GB+64GB version will be at a price of Rs 29,000 and will include a one-year LeEco membership.
LeEco will have its first flash sale for Le Max2 on June, and its first Le 2 flash sale in early July. Registration for both the models will be open on June 20th on Flipkart. LeEco now has a 24×7 Call Centre where users can reach the company's customer service personnel via calls, live chats and even on social media. It will support queries in nine languages.
Tin Mok, VP of Le Holdings and CEO, APAC of LeEco said, "All the announcements we made today are in synergy with our expansion plans in India and are a testimony to our commitment to the Indian market. We are very grateful for the tremendous user responses we have received so far on all our products and services. We remain committed to raising the bar each time and creating newer industry benchmarks with our technological prowess."
Another milestone in the company's India journey was marked by its foray into the retail space in the country on 7th June. LeEco has ambitious plans to set-up fully owned exclusive retail stores in top 8 to 10 cities, starting with New Delhi, Mumbai and Bengaluru along with 500 franchise stores. The company will showcase its entire product and services ecosystem at the stores; ranging from phones, TVs, VR Headsets, Bluetooth devices and power banks.
LeEco Le 2 and Max 2 Launch
Summary: In the presence of 2000 people, LeEco announced their long-awaited smartphones i.e. Le 2 and Le Max 2 along with their official marketplace, LeMall. Along with this, LeEco also revealed the world's first CDLA (Continual Digital Lossless Audio) Type-C earphone.
Rated 5 stars
5

/ 5
(

Reviewers

)