Philips Ambilight 50PUT8509/98 is a 50 inch Ultra HDTV equipped with a dual core processor and an ultra-narrow bezel which offers less distractions and more viewing. It's pixel-plus Ultra HD engine helps running 4K content with a breeze. And also 3 sides incarnation of Philips patented Ambilight technology which uses a set of LED's to create ambient light with a similar hue and intensity with content which-so-ever is being played on TV.
Philips Ambilight TV Design
This TV, on it's first look shall impress one for sure. It's a gorgeous TV, with a polished aluminium finish at edges, bezel is ultra slim which gives overall sophisticated looks to it. The bezel gives impression that it's wrapped around the screen like a picture frame, also it's not noticeable while watching the TV. The minimalist open stand is one of the useful part which also sets the TV apart from many of its rivals. Also it got a good height, which is a plus point to access power source which otherwise would be a pain to access if you have kept the TV standing.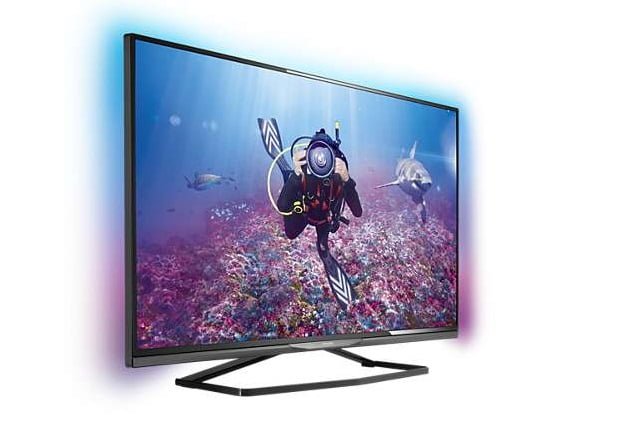 Talking about ambilight, in the instance, it's a row of LED's mounted at 3 sides (top, left & right) at rear of TV which emit lights to match the same the color of content being played in TV with a remarkable accuracy. You'll be surprised to see how you'll be getting the effect of light colors changing with content of TV even if it's of a DTH or any content being played online or via USB. This technology is fun, when paired with Ambilight Hue, however don't use it with high intensity. Hue just adds another level of viewing experience to it.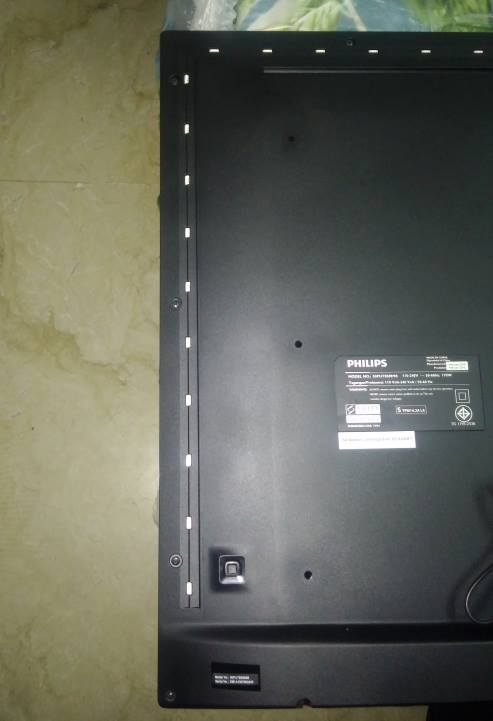 Although this TV fulfill every check list on design of a slim TV, another most striking feature i found which people usually don't observe is that it uses direct LED system, where LED's are placed behind the screen rather than at the edge. And benefit of this technology is that it helps in delivering superior contrast performance compared to TV's with has LED on edges. Also it's supported by Micro Dimming system which actually divides the picture into thousands of small sections for a much accurate analysis and thus it delivers more accurate results which is powered by Philips image processing engine. This micro dimming feature runs in being in conjunction with functioning of ambient light sensor built into the TV. Although micro dimming does not support local dimming where separate sections of the TV screen LED lights could be controlled individually.
While i write this article, this TV is among the Philips TOP line 8500 series which has the Pixel Plus Ultra HD Engine which can deliver sharper images with brighter whites and blacker black. It's Digital Natural Motion which is an award winning motion enhancement technology helps in diminishing judder and output excellent sharpness in picture quality. Not to forget the 400Hz motion rate ultra HD resolution, which is specially a required thing for high end gaming with high FPS rate.
While looking at this TV, i can finally say that it's a big improvement on overall content deliver interface and everything is much quicker to navigate and looks are much lot better. This TV also learn your watching habits and recommend content accordingly on the smart TV GUI.
Set Up Philips Ambilight TV
For installation part, Philips has a separate trained team for installing the TV, until you have to specify the customer care that you need to get their UHDTV installed, otherwise you'll the persons at your home who are well versed in installing HDTV's. Since it's was a TV for reviewing purpose only, i preferred to kept it on the table top and must say, it's quiet a sturdy and comes with a well balanced stand. Weight of TV itself is 16.4kg and along with stand it totals to 17.9kg which gives a good assurance that it won't get dis-balanced easily.
The initial routine setup of this TV is pretty decent considering the steps it shows to follow. It guides from setting up picture & sounds settings, followed by searching channels which is a useless feature for us in India considering we have DTH as mandatory for getting channels. Next option is for connecting to Network options available where you can connect the TV to your wireless network. For connecting to wi-fi, it supports i.e. WPA/WPA2, WPS and WPS pin as well as manual SSD entry.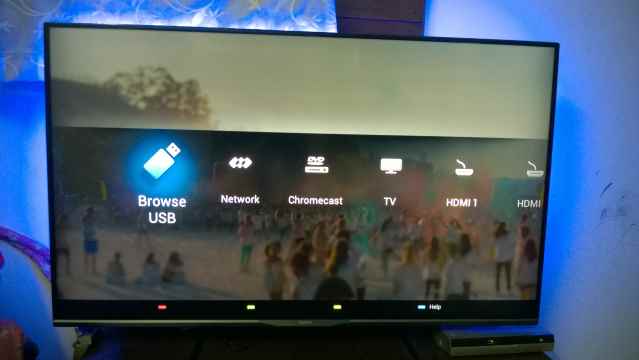 Considering the setup of picture and sound quality, there are not much options for custom settings, rather there are predefined set like Standard, Natural, movie, sports and more. You can manually adjust brightness, contrast and color depth by moving back to setup wizard. In same way, Sound also has predefined settings like Personal, original, movie, music, Game and News.
Although on default settings, bass levels in the 'sound settings and styles', overpower treble of 'voice', however the settings i mentioned above delivered the best what we require regularly for watching News, movies and TV serials. For me, Philips should add some more options for fine-tuning the sound as well like it has for Picture currently.
For connectivity, it has:
4 HDMI ports
1 YPbPr or CVBS
2 USB Ports
Antenna IEC75, Common Interface Plus (CI+), Ethernet-LAN RJ-45, Digital audio out (optical), Audio L/R in, Headphone out, Service connector
Philips Ambilight TV Picture Quality
One thing Philips has come par with his 8000 and above series that the black level response on the display is quiet satisfying. Indeed the black level situation has gone from barely to excellent, with almost each traces of grey mist disappearing and being replaced by actual deep black level response. There are no issues with clouding either as the black levels are consistent in every part of the screen and best of this could be seen in movie mode. So, even when you're watching a very dark scene, you'll see a perfect black with few bright elements.
As i said before, Direct LED plays one of the key factor for producing much more dynamic-looking dark scenes, where the brightest part of the picture look eye-catching luminous. Brightness levels are equal at each part, and are not like EDGE LED where they have to compromise in brightness to produce a good black color. This TV also does well in retaining natural tones and lots of tonal subtlety when displaying dark colors. Shadow details in dark scenes are amazing and are consistent along with the bright ones, especially when it comes to perceived depth of field. While watching bright sequences or dark content, one thing it makes us aware that the native motion handling is impressive with minimal judder or blur.
Shifting focus away from dark scenes, content on this TV looks vibrant, and reasonably bright with lighter content, plus the level of raw luminance is quiet good. Philips has always been renowned for the startling sharpness of the picture with finely detailed knobs on and this TV has followed the trend. This series is one of the finest TV philips has come along, giving 4K quality with great pixel density.
With the native 4K source, it does a superb job in delivering every pixel of UHD format with extra clarity and detail. The picture are so detailed that they can almost seen to go beyond 4K limits, such as ripples of the sea or pores in the skin. Another crucial point Philips has taken care is reducing levels of grain & stressy edging around contrasty objects to negligible values. It's exceptional 4K sharpness is a particularly welcome.
Another significant role in 4K success is color performance. This TV delivers gorgeously rich dynamic tones that give images a sense of pop and dynamism. This color vibrancy doesn't comes with the cost of the sort of tonal subtleties required to deliver color blend finesse which are usually possible with UHD/4K densities. You can observe such difference of shades in blades of grass in football pitch or in various skin tones.
While Philips has a long heritage of detail enhancement to deliver HD sources with exceptional sense of sharpness and texture during upscaling processing, lowering the sharpness a little from it's default position won't results in any excessive levels of noise in upscaled picutres. However, this process struggles a bit more with standard definition content, finding it hard to sort the source noise from picture information deciding what to upscale and what not. But it's still not a bad effort as the output retains mostly accurate and vibrant color tones.
Philips has not mentioned which Panel it has, whether IPS or not, but it does have great viewing angle when a bright content is being played. But since it doesn't support local dimming, sometimes you can see some localised light issues fairly readily during off-axis viewing.
Philips Ambilight TV: 3D Picture Quality
It's not easy to differentiate which TV is at best with 3D content. But with passive 3D technology, this TV delivers all the native resolution of a full HD 3D Blu-ray without any detail compromise or any flicker or crosstalk issue which is usually associated with active technology. 3D images on this TV look almost free from tell-tale ghosting problem.
There is also a depth adjustment feature, in which you can decide what levels of 3D depth you want in your video content. There are almost no black level problems with 3D content due to slight dimming effect of 3D glasses and content appears to be shot with a wider dynamic range. There are no compromise in detail levels in background areas in 3D format which is usually seen in 'direct 3D formats' and this TV has 'active 3D format'.
Also, TV in most cases, it detects when a 3D content is being played, but just in case if it don't detect and shows a splitted screen,  you can choose 2D to 3D conversion, which shall play the content accurately for you as it is meant to. Overall, Philips 50PUT8509/98 does a brilliant job of putting 3D back in front of our eyes.
Philips Ambilight TV: Sound Quality
As i said before at start, with incorrect settings, you might can face under-strength vocals because of pseudo surround modes, otherwise this TV gives a very solid audio account of itself. Max volume can be reached without any distortion nor the soundstage would lose any cohesion and voices of each are both clear and well placed.
While Treble detailing is reasonably clear, i wish Philips could have given more control in customizing dB levels like as in a equalizer so that we may could set our own comfortable mode for listening. It also has a decent stab at pumping out bass and the speakers are placed at bottom of the TV and are not visible to the users.
While maxing out the volume, just in case if you find yourself stuck with flawed "incredible surround" settings, this TV yet is in a position to deliver a soundstage that for the most part, making his 4K content proud.
Philips Ambilight TV: Features
While every new high-end TV coming in market is being tagged as smart TV, the platforms on these are yet expanding and are being added with more and more features with time. While online video content viewing is gaining a boom in India, Philips has added in this, Cloud TV services which are much appreciable but not usable in India.
Free-To-Air Satellite Tuner
Philips Ambilight TV includes a DVB-T2 tuner for freeview HD, as well as a single free-to-air satellite tuner. You can setup terrestrial or satellite tuners with an ease and TV shall itself guide you with process of tuning all digital channels. While it might take few minutes, but the result outcome shall be an eight day Electronic Programme Guide (EPG) sensibly laid out with all usual required information ready to use. Like all modern TV's these days, this TV also has the an option to add an external USB hard drive and you can use it for recording options, thus turning the TV into a PVR (personal video recorder). This feature offers you timer recording and you can operate these features from the dedicated buttons provided on the remote control. These recorded programs can be played back later anytime. However since there is one tuner availability, you can't record one programme while watching another.
Applications Related to Hardware
Like most TV's coming today, this Ambilight TV also has built-in Wi-Fi which makes it easy to most wireless network, and there is an option of via LAN too. Setting up WiFi is an easy interface to follow and it integrates well with various features of TV seamlessly like while streaming online content or while doing video chat via skype. I didn't had any issue either while connecting TV via Ethernet cable.
You can also convert this TV to a multimedia hub as it can connect with many wireless compatible devices for streaming multimedia content from computer, tablet, smartphone or from HDD recorder. Selecting the content source interface is also neatly laid out and easy for navigate using a series of layers. This TV ensures to provide as many options to play your photos, videos or music no matter where they are stored.
Integration with Chromecast
One of the feature which surprised me most is it's seamlessly integrated with Chromecast controls too. Like if you're streaming a video or audio through 'localcast' app on android, you can play or pause the content via remote control which was the surprising part for me. Also when you start streaming any content to chromecast, TV detects that automatically and switch to HDMI port of chromecast automatically.
Applications Related to Software
While Philips has updated looks of the Smart TV interface, it now also appears as overlaid over whatever currently is being played on the TV, rather than using a video window for the current programme. Smart TV interface can be accessed via dedicated button on remote and the layout is very simple to navigate and informative. One of the intuiting feature i liked is the streaming of twitter tweets overlaid over any content being played on TV. We can monitor any hash tag or timeline while watching TV programmes too.
There are also video on demand services apps as well as apps like Facebook and Youtube. There are more apps like Spotify, Napster, Tune-in Radio and many more which it supports. You can also customize and move the apps as per your requirement and even install and uninstall available apps. There are some adult apps also which offers porn content, access of those can be controlled via parental control feature which TV always remind to you when you run such apps.
Philips Cloud TV service also offers numerous premium international channels to watch, which however is currently not available for India because of the obvious reasons. But if you're a user from Europe or UK, this service is a boom and can grow more if they start supporting Amazon prime too.
Supported Media Playback
As the competition is getting stiff, every brand is working hard to support more and more formats on their TV to playback multimedia content. We tested media playback formats in various manners like playing different video formats like mkv, avi, mp4, MPEG,  and all played smooth without any error. Also listened to stored music in HDD or pen drives while simultaneously watching images and found no glitch in the performance.
This TV also include WiFi miracast, which allows to mirror compatible smart devices display to TV screen, so you can look at photos, videos or even play games. It also supports Multiroom feature which offers to share LIVE TV and recordings between Philips TV's. List of smart devices not just include android phones, but it also supports Mac and tablets and or any miracast enabled windows PC too.
Another big feature to admire is Cloud explorer, which is integrated seamlessly with Dropbox and you can login and view your images and video on the TV screen.
Philips MyRemote App
While Philips already offers a dual sided remote which is a clever design from Philips, you can count it as the most useful companion for the TV as it's android app has not been updated since last 7 months as i write today this review. Although this app automatically detects the app available in same WiFi network, it still can't send the signal to Turn ON the TV as TV disconnects itself from the WiFi network when being on stand-by. While it offers so many screens to control various features of TV, in our testing, WiFi smart screen didn't work and the app has to be blamed for that since it worked fine with miracast and chromecast. When Philips has done so much hard work in making this TV next to perfect, neglecting the app is not a nice thing to do.
Currently by using this app, you can use it as a QWERTY keyboard. Although the interface is very easy and simple to use, it just offers so many controls that you have to swipe through to find your required control. Other than that, it offers SimplyShare which offers access to content in your smartphone, tablet or over network and play it on TV.
Integrated Web Browser
In-Built web browser offers a nice tabbed browsing along with the options to create favorites or say bookmarks. Navigation is fairly simple via arrow buttons and for data entry, there is already a QWERTY keyboard given on remote conrol and in MyRemote app as well. While this browser doesn't support regional fonts, we didn't find any other issue browsing different websites. While there is a long call before TV shall be picked up first for browsing internet, but yet count it in development stage and further there are scope of refinements and this is how things go better with time.
Final Verdict
Overall, Philips Ambilight offers a decent Smart TV platform with some nice features and a great display to experience and amazing surround sound which count it as a recommend product from our side.