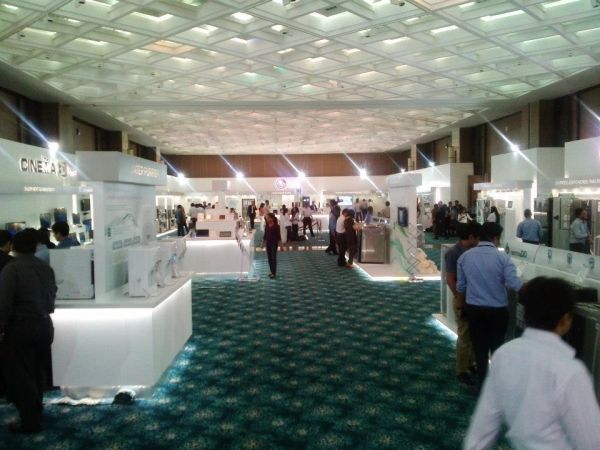 Unlike other brands, LG for the first time showcased their most innovative products at LG Tech Show 2013. That's a great initiative by LG, who takes and value Indian consumers choices at a higher priority and strive to offer the best quality products in market. Even though there were some ultra-premium products showcased, but there are few which we can categorize as best innovative product showcased at the LG Tech show.
Futuristic TV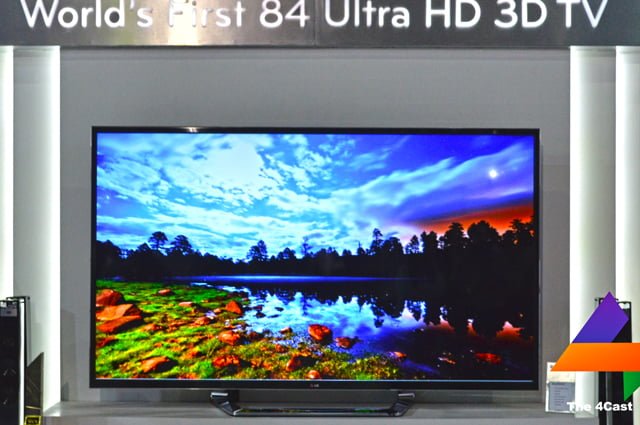 If you really want to see a TV of the future, and expect Samsung to take it out first in market, then probably you'll be surprised to know that LG shall be offering first time to the consumers an 84″ Ultra-HD television. The major USP of this product is the resolution it has is 4 times what a normal HDTV (1080p) offers. Currently this product is priced at Rs. 17 lakhs, which obviously makes it out of range for most of the Indian customers.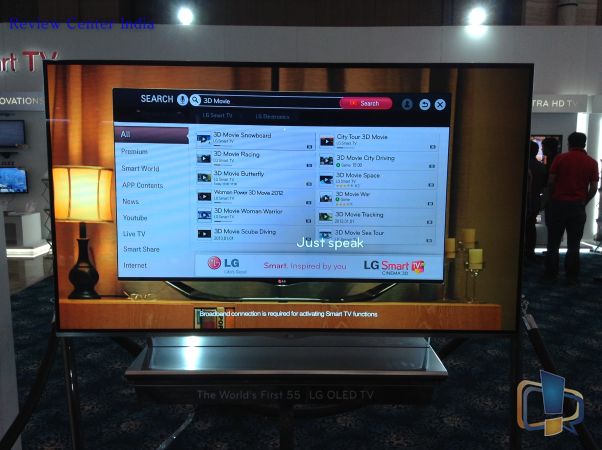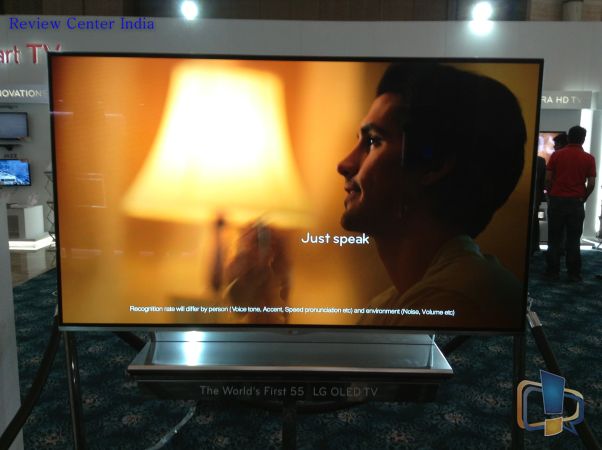 Including this, another technology which shall be hitting Indian markets very soon would be OLED TV's. And LG showcased their 55″ OLED television which supports 3D imagery as well. When we saw it at the LG tech show, we realized that the color reproduction and contrast was absolutely brilliant because of superior WRGB technology and the TV Screen is just 4mm thin and weights less than 10 kg's which really surprised us a lot.
Printing Memories on the Go
LG PD233 Pocket Photo is a smart mobile printer which is capable of printing high quality photos and provides excellent wireless connectivity via NFC or Bluetooth and you receives your print command from your android phones or iOS phones with just a tap. This product easily fits in your hand or jacket pocket and the prints from this Pocket photo measure 5.1 x 7.6 cm (2 x 3 inch) which is a nice size considering the mobility printer offers.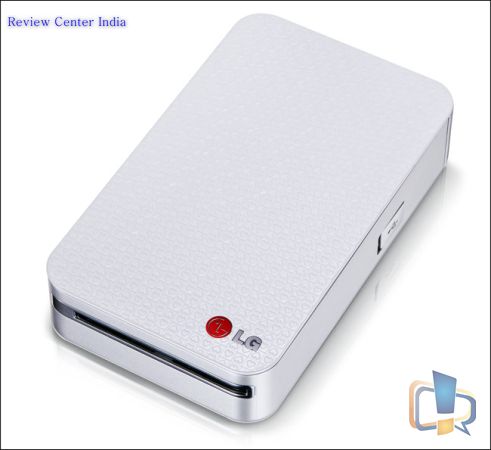 It also has the capability of printing QR codes on the pictures which keep the physical images connected to the online community. For us, the major use of this printer shall be for printing customized birthday invitations, thank you cards, or even business cards with a personal QR code. If you're wondering about the printing cost, then this printer deploys an inkless printing technology from ZINK®. In comparison with conventional printing processes, ZINK's inkless paper system preserves images longer and produces less smearing and preserves images longer.
Home Entertainment in a Style
Along the Ultra-HD TV's, LG also unviels a 100″ Laser display named HECTO. Although LG expects selling more this product in B2B segment, but i feel as the people are adopting new technology with a fast pace, having this technology at home is not very far. The major USP of this projector is that its equipped with Ultra Short Throw (UST) unit, which projects images over short distances, as short as 22 inches. HECTO offers a full HD resolution and a 10,000,000:1 dynamic contrast ratio, rendering the most vivid images and incredible clarity. LG's Laser Display has two 10W speakers built into in the UST unit, which support virtual surround sound for an authentic cinema experience at home.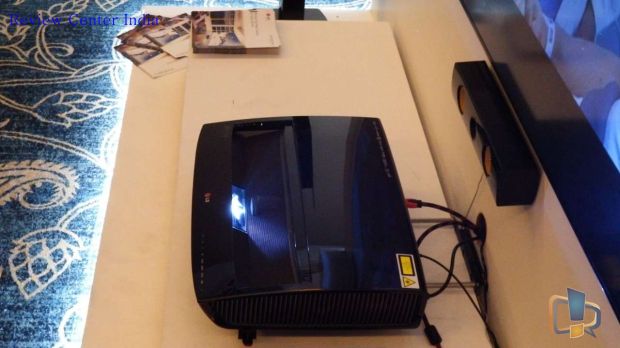 It also has HDMI Port, RS-232, Smart TV capability, and a slim and specially designed LG's CINEMA SCREEN that makes the picture look good irrespective of the intensity of ambient lighting. Plus you can connect your DTH set-top box and can watch your favorite programs on a 100″ screen. The projector bulb has a life of 25,000 hours without needing replacement, which is five times longer than an environmentally-unsound mercury lamp.

For B2B segment, this projector can be used very well for video conferencing in HD as it supports large screen with versatile features. At 100-inches, the screen can be easily viewed by all video conference participants or presentation attendees. It's an ideal solution for Board Room, Conference Room, Classroom etc applications. The whole setup of LG's Laser Display is available with a price tag of 7.5 lakhs.
Music System to make your Neighbor Envy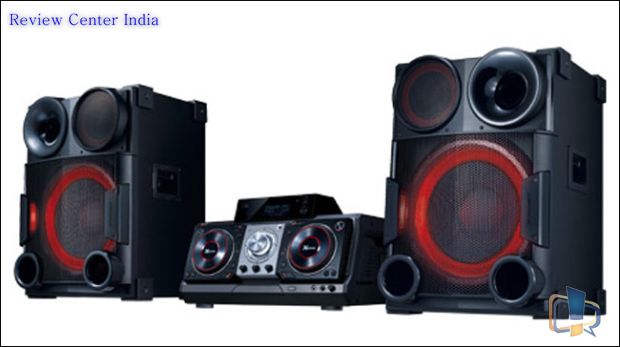 A music system featuring 2300W RMS, 25000W PMPO, what more can you expect from a music "theater" at home to give you. LG CM9730 – X Boom, is the only music system which offers highest output power that an electronics company has created for consumer use. This system has an inbuilt "Smart DJ" which helps you simulate a club party ambiance at home. Also there is a "Smart DJ" function which offers 5 types of voice effects, 6 samples of beat box, and 7 kinds of DJ effects, the CM9730 automatically adds compatible DJ effects after analyzing the beat and rhythm of songs played. You can enjoy vibrant bass and intense sound without distortion, even at high volume. And last not the least, X-Boom also allows you to play music from your smartphones via the Bluetooth function.
Last but not the Least
LG also unveiled laundry washing machine which is the fastest and largest capacity front-load washing machine with 6 Motion Direct Drive Technology. This washer enables consumers to wash more clothes per load including large, bulky items such as king-sized comforters. This machine consumes less energy and water compared to any conventional front load washing machines.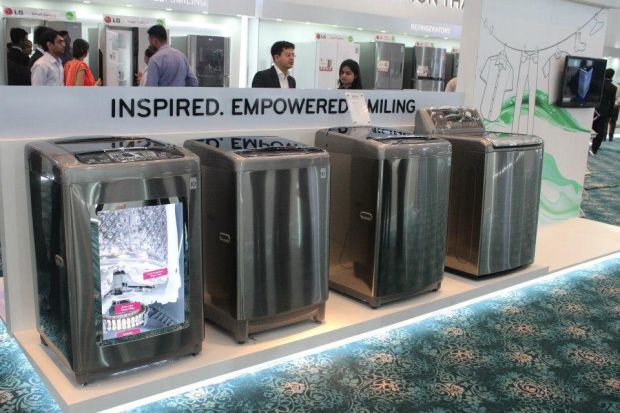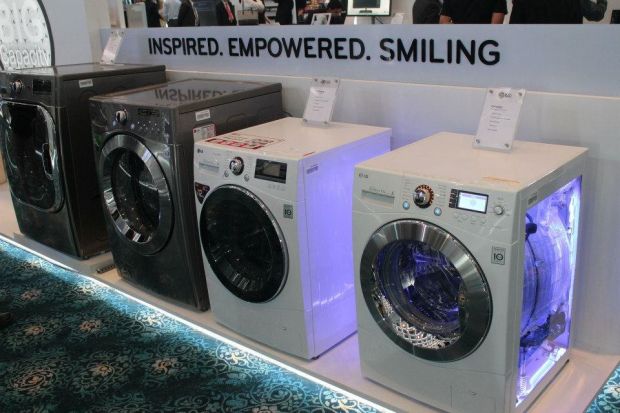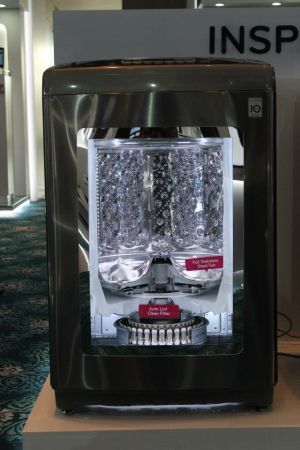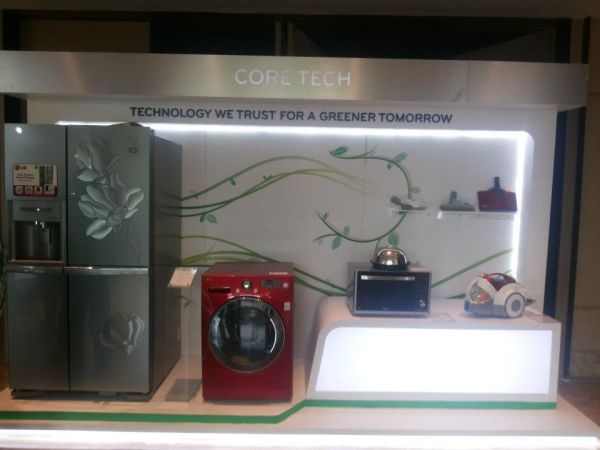 LG also displayed at Tech Show their range of LG Evercool refrigerators. This range of refrigerator is specially customized keeping in mind the suffering Indian consumers face because of long power cuts. These refrigerators are equipped with LG's patented Power Cut Evercool technology, which has an ability to retain cooling for up to seven hours without electricity. The range is energy efficient and saves up to 20% energy.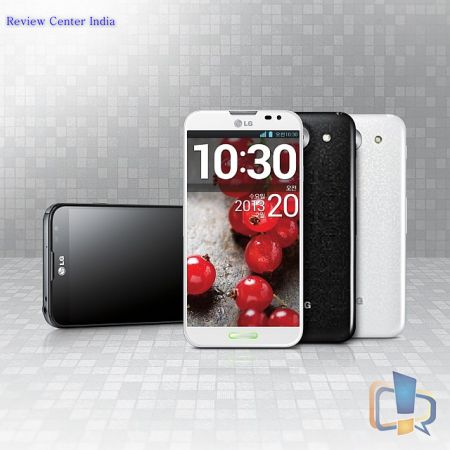 And finally LG Optimus G Pro is also coming to India. Specifications of this phone are superb, which resulted in selling of 5 lakhs unit in South Korea within 40 days of launch which is really a commendable thing here. Optimus G Pro carries on the premium heritage of the entire Optimus G series, with 5.5-inch Full HD IPS display it runs on Android Jelly Bean. Equipped with 4G LTE, the smartphone offers the largest battery capacity in its class at 3,140mAh, allowing Full HD viewing enjoyment for hours on end. The mobile phone has an upgraded 13 megapixel camera on the back with LED flash and 2.1-inch front-facing cam. It has 32GB of internal storage, further expandable up to humongous 64GB.
If you want to know anything more about LG Tech Show highlights, can you ask us in comments.