Belkin in recent times had launched so many power conservation solutions products and Belkin Conserve valet smart usb charging station is one of the product in that series. We all know that AC adapters drain powers even when they are not charging the device. Hence, to prevent this power leakage, Belkin comes up with the solution of conserve valet USB charging station. The best point or USP of this device that it turn off itself when everything attached to it gets charged fully. There is no need to worry when you forget to take out your device from charging points as the maximum time the device runs upon start is 4.5 hours depending upon whether the device got fully charged or not. So, you may can have a sound sleep after putting your device on charging on this charging station, as you know it will auto shut off after appropriate time and will help you saving your electricity bills too.
Design
Belkin is highly popular for making clean and neat Apple accessories and this charging station is also a good example for it's clean and modern design. The device is very light in weight and comes in three colors for charging base i.e. white, black and lemongrass. The one which we had for review here is the white version. All the USB ports including the power port is housed in the charging base only. There are 3 USB ports given at back with power point and one USB port is given at right. Belkin has taken a right step in keeping one port aside as it will avoid creating any hassle of cables around the device.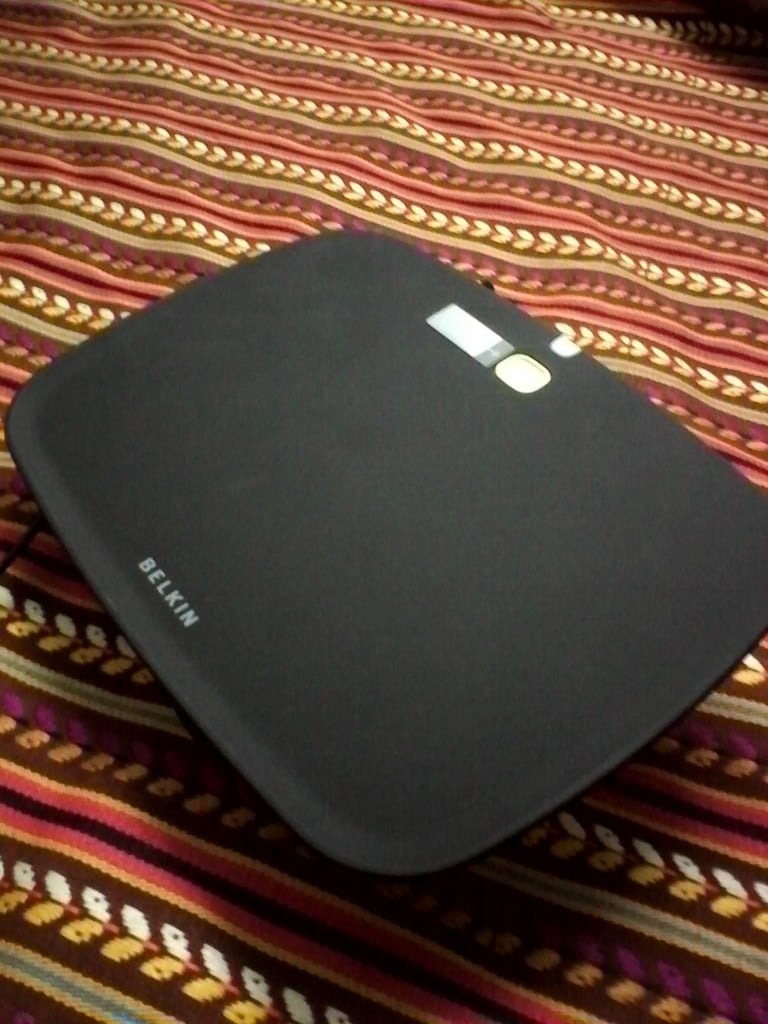 On the top of device, there is a black device tray on which you can keep 3 devices at a time. If you have 3 average sized phones, you can keep all 3 above tray and charge them without any worries. My recommendation shall be to keep your phones above tray and if you have got an iPod, charge it using the port given on right, as there would be absolutely no space left for it on the tray. Just powering ON main power to device and connecting the gadgets to it is not enough, you'll have to press the green button once given at top center of device tray to start charging. Also there is a good gap between the charging base and device tray so that you can wrap across your all charging cables and the power cable too, saving considerable amount of space around the device.
Features
As soon, as you tap the start button, after 4 hours, verifying that all devices got fully charged, the device will auto shut off himself. The LED given with the green button, indicates whether the device is currently ON or not. If the LED is running, that means it is charging the device. Also, this device is smart enough to find if it has any device available for charging. If you have not connected any device, and tapped ON the green button, it will sense that and will shut off after few minutes saving the power.
However, if your charging 3 or 4 devices at a time, the charging time of the devices shall be higher. Also if your thinking to keep your device on charging overnight, you can keep any device which requires max 5V for charging. But, just in case, if you require fast charging, you should use your charger which comes up with the phone.
Currently the output of the device is 500mA and it takes nearly 4 hours for a smartphone to charge completely and most probably you can charge any smart phone even with big batteries. But be known, that you might cannot use this device for charging tablets as they require bigger energy source for charging. However one of my friend told me, that if you switch off iPAD and then connect the tablet to the charging station, it shall start getting charged, but i am not sure for which models he said so.
Box-Contents
Box contents of this charging station includes:
The Charging Station
One Micro USB Cable
One Mini USB Cable
Charging Cable
Printed Short Guide
Where to Buy From
I bought this device from LoveCases. Here you can find the link – http://www.lovecases.co.uk/belkin-conserve-valet-smart-usb-charging-station.html
This charger will work great with your iPod Nano 7G or any other iPod/phone, so please go and check it out.
Final Verdict
Belkin Conserve Valet Smart USB Charging Station is perfect for charging 4 device overnight at once saving lots of space around and even conserving energy usage helping you save lots of money in electricity bills. The device is very well designed and has amazing looks. The only downside is you cannot use for charging tablets and e-readers.