I was in so need for a headset since few days when i lost my last headset which came with my Galaxy Note. And it feels incomplete without having a headset with you all the time, since i am a big fan of music and listening to it whole time is my hobby. So, was in quest of searching the right thing for me that too within a limited budget. First i had the thought in my mind to buy the official headset again of Samsung, but when i searched on internet for buying this, i found that there is not much difference of price in buying the official wired handset or buying a Bluetooth enabled Stereo headset of Jabra or Sony. Samsung official headset cost (compatible with Galaxy Note – original Samsung EHS44ASSBE) was nearly Rs. 2150 and while bluetooth enabled stereo headset of Sony and Jabra price was in a range Rs. 2400 – Rs. 3000. Hence i decided to go wire-free thing and went ahead for buying the bluetooth enabled headset.
Although in India, there are not much phone accessories selling websites, but the one best and reliable i found is Mobilefun India, since they ship the product directly from UK and hence there are no worries relating to quality of product or regarding delivery of the product since they use DHL service for shipping. So, after much price comparisons and reading reviews, i decided to buy Jabra Street2 Bluetooth headset from them since it has some good  features i required and Jabra is also very famous for manufacturing good quality products with great sound quality.
Jabra Street2 Review
First impression of this headset can make you fall in love with it. Packing was very lovely, a butterfly shaped packing by DHL which you might not like to open. You can wear it with lanyard (chain) or fix it with the clip. After a full charge, it gives a back up of 8 hours of talk time and & 7 hours of music playing. Stand-by time is up to 9.5 days. A quick look on the box content:
Jabra Street2 Headset

Stereo earphones (exchangeable)

2 Extra earbuds (Small/Large)

1 Lanyard (Chain)

1 Clothing Clip

1 AC Power adapter/charger

1 Quick start manual
Jabra Street2 Design
The headset has a pendant design, which is quiet stylish and like a showoff thing. The front buttons has metallic finish look buttons and whole control unit has curved corners around. The whole body is embedded in rubberized border which gives the overall finish to its looks and protection as well from splash of water or from falling.
The unit comes with lanyard and clip both. So, in order to include this as a fashion accessory, you can wear it around the neck, or just in case, you are not so fashion savy, you can clip it to your clothes.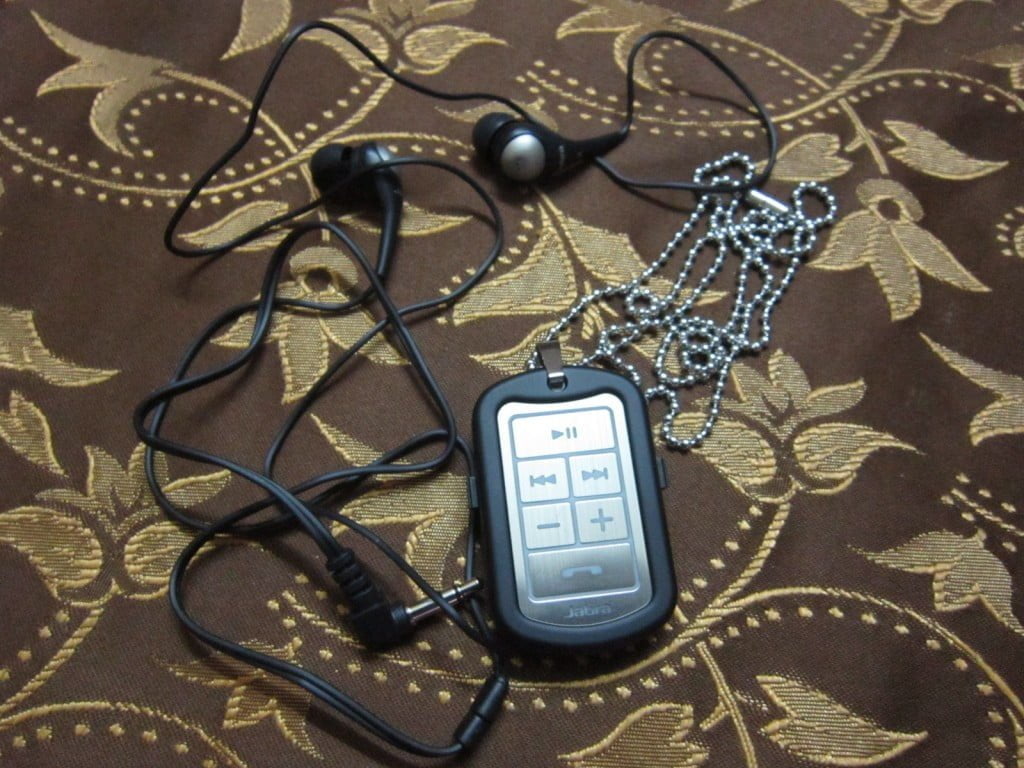 On the front metallic grid, it has 6 buttons to control your smartphone. Top most button is for doing play/pause the music app. The thing we liked that the headset was compatible with PowerAmp player as well. By default it supports native music player. Also doing previous/next song and volume is independent in this unit. Means controlling volume by phone and the headset unit is different. My usual habit is to keep max song on device and control volume in headset. Following this, you can pick up and disconnect call using the bottom-most button. Pressing 2 times continuously that button will redial your last dialed number.
Charging port is given at bottom which is a standard USB port older version. It's not the one which is commonly used these days on smartphones. The 3.5mm audio jack is given at right side with nothing on left side and at back.
Jabra Street2 Compatibility
This phone is compatible with almost every phone which support Bluetooth having A2DP Profiles. However it is recommended to buy this product only if your phone is listed in the compatible device. We tried this headset with other phones too which were not in compatible list, on those devices, music player worked, but calls didn't. Also we checked 2 compatible phones, like Galaxy Note and Galaxy SII and we found no issues doing and picking calls and music also played fine. One of the biggest benefit is that you can use any headset with it on 3.5 audio jack.
Jabra Street2 Music Quality
If you have habit of playing the music on default settings, you might not be utilizing the real music quality of this headset. I recommend to you to try different settings of music in your device to experience the real music quality. The beats quality is excellent and vocal is at par. So, you don't need to worry for sound quality at all and even for headset build quality as well.
Final Verdict
Although the price tag is in a range of Rs. 2500-2800, it might be a little bit costlier, but its totally worth the quality. It gives great music quality and in-ears headphones are very comfortable. You can use it as a style statement and wear it or you can clip inside with your undergarments and keep it hidden from world. Choice is yours.
Related Posts:
Opera Mini Review and Comparison with Chrome and Firefox
Cheri One Qutub, Delhi Live Cook Out with Four Seasons Wine Tasting Event
Benq LED Monitor Review, Price and Specifications (GW Series)
Honda CBR250R Review, Price, Mileage, Performance, Specifications, ABS
Samsung Galaxy S3 Review, Price, Specifications And Features
Mahindra XUV 500 Review, Price, Features And Models
Canon A3300 Camera IS Review, Features And Price
Honda Brio Car Review, Price, Models And Features
Honda City Car Review and Price 2012 (New Model)
Bajaj Avenger 220 Review And Price