If you're planning to buy a dry iron, don't ever think that you should just see your budget while buying an iron. There are many more points which you should consider and keep in mind before buying an Iron. This article is of Philips dry Iron review but i am going to write some points too which you must consider before purchasing these products.
Tips before buying a Dry Iron
1. Fabric Settings
The iron temperature setting knob must have settings related to them as per fabric like Nylon, Silk, Wool, Cotton Linen or many more, likewise this Philips iron had which i purchased recently. Also, the iron must cut-off after reaching the temperature setting set for any particular fabric.
2. Wattage
This is very important to check, of how much wattage iron you're buying. For getting a good ironing experience, and if you want quick ironing, an iron must be of atleast 1000+ watts. This would help saving you a lots of time and even efforts would be less. This information is usually given on the packing of an Iron or on the Iron itself too. However, you'll have to remain little more careful too while handling these products.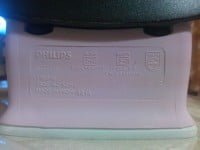 3. Sole-plate Type
The Sole-plate must be with Teflon coating which is non-stick in nature or with similar type of coatings. The iron i bought, had American Heritage coating which is a similar kind of coating as of Teflon. The only benefit of American Heritage coating is that it slides more easily on clothes if compared to Teflon coating.
4. Weight
Weight of Iron is also a big factor. Lesser the weight, less efforts would be required for ironing. The one here i bought, this product sole-plate is made of Aluminium with American Heritage coating. This made it much more lighter than irons having Iron sole-plates.
5. Swivel Cords
This is not a very big factor, but having a swivel cord is a plus benefit for getting effortless maneuvering or say Ironing.
Philips Dry Iron Review (GC136)
I wonder  many people actually would like to read a review of an Dry Iron, however till date, i have seen people buying such appliances without any knowledge. The only factor they keep in mind is design (how its looks) or how much it costs. However choosing a wrong product can ruin your investments on your appliance. I was more keen to buy a Steam Iron, but since my mom only insisted to have dry iron, hence i bought this. So, i am going to write in detail, why i choose Philips Dry Iron GC126 model, after doing so many comparison and market research.
Dry Iron Technical Specifications Comparison
| | | | | | |
| --- | --- | --- | --- | --- | --- |
| Model | Price | Wattage | Sole-plate | Weight | Swivel-Cord |
| Philips (GC136) | Rs. 976 | 1100 | Aluminium with American Heritage Coating | 0.76 Kg | No |
| Havells (Joe Heritage) | Rs. 925 | 1000 | Iron with American Heritage Coating | No Details Given | Yes |
| Morphy Richards | Rs. 895 | 1000 | Teflon Non-stick Coated | No Details Given | Yes |
| Bajaj (Insta lift 1000) | Rs. 925 | 1000 | Non-Stick Coated | No Details Given | No |
| Usha 1602 LT | Rs. 530 | 1000 | PTFE Non-stick Coated | No Details Given | No |
Points to be observed here, that only I found only Philips which is providing weight too of their products. If you check similar models of Philips Dry Iron with almost same specifications, you'll find difference of wattage and weight. Since this model soleplate is of Aluminium, it is lighter than other other models. Other models of Philips were nearly 0.90 kg with iron soleplate and American or Golden Heritage coating.
I believe, a company is good if they are cut and clear in providing right technical specifications of their products and may not hide it from consumer. Philips and Havells, are those two brands in Dry Iron category, which i find it most trustworthy who have been pretty clear in providing required details in a correct form. However, Bajaj is also a good brand to go for, the only thing which i didn't liked about them, that they are not providing any technical specifications of their dry iron products in their official website itself.
I found more information about Bajaj dry irons on other e-commerce websites like Homeshop18 or Flipkart. There is one interesting and annoying point i found in Flipkart listing is for a bajaj iron, which was listed as Dry Iron when checked from official source, turn out to  be Steam Irons. So, for buying Dry Iron, i rather choose Homeshop18 which is also a reliable brand and is one of the topmost brand in e-commerce market.
Philips Dry Iron Design
So, returning to review, one of the major point to choose Philips Dry Iron (GC136) was its design. If you see the iron closely, it is indeed pointed in a much proper proportion if compared to other brands design, making it slide more easily on clothes or to reach some corners more easily while ironing, say area near collar in shirt or while ironing a pant. Also as per it's dimensions (25.5 x 11.1 x 12.8 cm), it covers more area in one go during ironing of clothes. And, in below given 3rd image, if you observe the button grooves closely, these grooves will help you iron easily on areas nearby or along buttons or seams.
Philips Dry Iron Heating
As per i said above, more wattage, means more quicker heating means quickly you'll get free from ironing efforts. In dry iron category, the most wattage iron you'll get is of 1200, but this much wattage was not available in Philips. Bajaj one model has this much wattage, but i am very unsure about it, since no technical specifications were given on Bajaj appliances websites and i was not ready to rely on specifications given on Flipkart listing since they were confusing me. And even in Philips, this category most models were available in 1000 Watts. But luckily i found this model listing in Homeshop18, and i bought this one, because of its 1100 watts wattage and aluminium sole-plate with American Heritage coating which helps in easy gliding over clothes.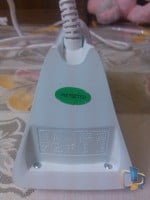 Philips Dry Iron Sole-Plate
Philips dry iron GC136 was the lightest iron i found in dry iron category i.e. 0.76 Kg because of its aluminium sole-plate and even if you buy iron with Iron sole-plate, that weighted nearly 0.9Kg. Also, since Aluminium is a good conductor of heat, this also makes a plus point for buying this particular Iron.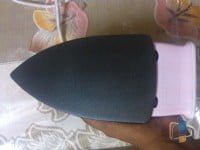 Philips Dry Iron Cord
This iron however doesn't have a swivel cord, which i feel it should have. However, if you see the product pics given above, it cord tail end can lean to some angel, which is some useful.
Philips Dry Iron Fabric Temperature Knob and Indicator
This iron is equipped with pre-setted temperature for different fabrics, which you can set easily by revolving the round knob given in Iron. Also indicator of cut-off and cut-on is also their which is a very usual and basic thing. However, one thing i feel is that they should give the indicator light on handle rather than below handle. But still the indicator is easily visible since, its very nearby the round knob.
Cons of this product:
1100 watts Power Input

Weight : 0.76 Kg

Sole-plate: Aluminium with American Heritage Coating

Design
Pros of this product:
No Swivel Cord

Indicator given below handle
Final Verdict
Whenever i bought any product, i do proper research before buying it. And now after using it for many days, this iron has not let me down in any way and is definitely a recommended product to buy.
HomeShop18.com Shopping Review
JUST in case, if you need to buy this iron, as i mentioned above, i bought this product from this listing given at homeshop18. And i was quite impressed by there service and quick delivery. I ordered this iron on Sunday and it got delivered in Wednesday afternoon. Also the product was properly packed and since when the delivery happened, i was not at home but still the delivery person requested my parents to check first product first and get proper satisfaction from it, if it is working properly and then pay for it (i choose cash on delivery option). Also, the steps taken to purchase it online were also not much hectic. I am going to list out, how i ordered this product within 5 minutes online.
After confirming everything given in order in online listing, i clicked Buy Now. This step added the product in shopping cart as shown below.
After i choose, proceeding to pay option, it showed me the login screen which is quite obvious, i logged in immediately since i was already registered to them because of many previous purchases i did from them in past.
Just fill the shipping addresss, hit Save and Continue, it will take you to payment options, i immediately choose cash on delivery option and in next step, with a confirmation, my order got confirmed. I forgot to take screenshot of last screen, apologies for that.
Final Verdict for Homeshop18
I don't rely much on reviews given for any e-commerce websites when it comes to delivery. Rather than to sit quietly, i choose to try the service by myself and this website has never let me down till date when it comes to delivery.
Also Read:
Comparison of Renault Duster, Mahindra Scorpio, Maruti Suzuki Ertiga And Tata Safari
Benq LED Monitor Review, Price and Specifications (GW Series)
Spider Man 4 Review (The Amazing Spider Man)
Yebhi.com Consumer Review About It's New Website Design