Yebhi.com Website Review About It's New Design
Yebhi.com is one the leading e-commerce portal and had been successfully running in a long term now. The company behind this website is Big Shoe Bazaar India Private limited which is a leading company among many online e-commerce portals in lifestyle category in India. The main point behind there success had been providing best product range in accordance with value of money and to deliver the products in a fastest manner. There head office is located at Gurgaon, India. So we are here reviewing the new looks and features this website is offering to their customers.
Yebhi.com Consumer Review
Yebhi.com had made an overhaul changes in there website. This is the biggest upgrade ever in Yebhi history (after when they transformed from bigshoebazaar.com to yebhi.com) for having an edge over other e-commerce portals. Many new features have been added with removal of few some not-so-useful ones. And the biggest major change is of layout and using it in grid style. We'll discuss this point wise:
New Vertical Grids Layout
New Vertical grid style are now being used, to showcase the categories on home page rather than the items previously. This is good step to offer the customer to first enter the proper category and then see the items listing. All major categories along with there subcategories are showcased on homepage to provide easier navigation with ease to customers. The grids are placed in a zig-zag manner to offering a fresh look to new visitors as well as to the old ones. This design has consumed all the web page space by automatic spacing of product listing which will help them in future in achieving responsive design too.
Even i observed that new design loads faster since it has less bigger images to load unlike the previous one where it has to load a complete slideshow. However the design doesn't scored a good number i.e. 76 on homepage and 75 on a random item page in Google Page Speed Tool. This score should be above 85 to get more preference by Google in giving more traffic to the website. The more faster the site, more happy the consumer & Google is. That's a fact!!
Coming further, the menu in the left sidebar. It's repeated two times on homepage. I don't see the requirement of keeping it two times. Rather i would say to keep the menu by default open which slide out from the "View All Categories" button or place the categories menu default open like it may look alike as a part of the button. And in same way, when hovering over the parent category, sub-categories menu should appear likewise it appear when we open the menu from "View All Categories" button. Talking of the header, a good step is taken up by keeping only important things in it like support no. and email id. However some links can be placed like Home, Contact Us, Login or Register on the header since consumer are habitual of seeing those links in the top of website.
Brand index has been removed from header and had been moved to "View All Brands" category. However removing this & moving to new specific location seems to be done a injustice to it since it plays a big role in navigating the customer to a specific brand listing. When the website have that feature, why not boast it everywhere.
Search Box And It's Results
The search box could have been enhanced by adding category specific search to it. Means it should allow the customer to first select a specific category and then type the required query and hit search button. It has its own many benefits since the results would appear already in a more filtered format.
But yes, the search box do support realtime search terms which is a good thing as it becomes easy to know the most searched terms in website.   So, when we search any query in search box, results came up with proper proper filters for those at the left. For example, when i searched for "shirts men", the search results appeared in a well formatted format just like when we see any category items listing. The listing is with big thumbnails along with how many likes, wishlist additions & reviews it got. Sizes available button is provided at bottom of an item listing which when clicked upon shows the available size for that product.  Available sizes button once clicked  would keep available sizes open for comparing till we click again to close it.
However i am dis-satisfied with the search results listing intelligence by website, since it showed me all results of t-shirts rather than of shirts. It didn't even showed me option of selecting Shirt in the filters options.
 And the filter options which appeared along the search results in top left was valid for the t-shirt category but when we tried to precise results by clicking on any size, color, gender or any option, a 404 page returned. I tried searching more keywords like with shoes and same thing happened. So, this problem should be sorted out by yebhi asap. We have notified them about this.
Also, at some places, we found an option of "Try n Buy" above product listing image like with "Shoes", which means we first can try the product with different sizes when being delivered (with cash on delivery option too) at our place and then we can select the perfect size for us. This service is not available in every area, so if you need to find that, just click the "Try n Buy" banner, enter the pincode of your area and it would let you know whether the service is available in your area or not.
However, they should write the terms & conditions and more details on the popup itself (see above screenshot) which appears for entering the pincode to present a more clear picture to the customers.
Product Page
For reviewing purpose, I picked up a random product page of a shirt of Wrangler. Overall the new layout looks nice. It has buttons like Like This, Add to Wishlist, Reviews for this product or picking up some pre-defined thoughts for the product.
There is no option to select quantity required for purchasing. So, in case if you need to buy more than one in quantity, you'll need to add that item to cart that no. of times as per your required quantity.
Product information placement seems fine along with the brand information. The font used in both is a bit small if compared to other text on page. So, little enhanced font would do better work in catching eyes of customer.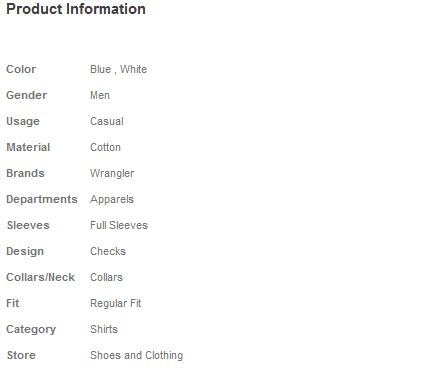 And if someone has added a review of the item for that product, only product review content is listed, and there is  no option to enter name of those who added the review. This is my personal opinion that the name should come and it should inherit the name from the registration details.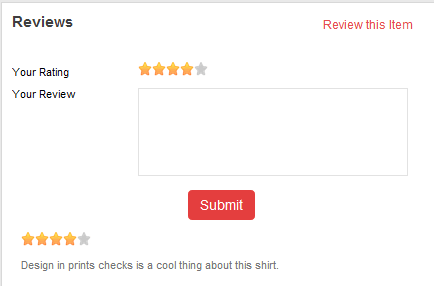 Reaching the bottom of the page, i was expecting some related product listing of shirts & other related products, but there was nothing related to it. Rather it had only listed those items which i viewed previously. Even these recent product listing was incorrect.
As per above screenshot, it showed me same product 2 times with incorrect price values. And it doesn't appear to vanish away even after seeing many other products. This needs some correction asap in it.
Also, there are no social buttons present on the page, like of Facebook, Google+ or  Twitter. I strongly believe that these buttons should be there, so that people  can share and recommend others about the product they bought easily to others.
Login And Logout Redirection
To add a review of the product, when i was on a product page, i clicked Sign-in, Login page appeared, i entered my credentials and when i got logged in, rather than i may get redirected back to the product page, i was redirected to the help message page.
From there i went back to that product page to add the review. So, after adding review, when i logged out, again it redirected me to the login page rather than to the product page. I repeated the same thing with home page and same things happened again. This is again a point which needs rectification.
Some Good Policies of Yebhi.com
That means you can return the purchased product within 100 days of your purchase. You won't be asked any question why you want to return the product. You can return the product even if you did't liked it. However there are some terms & conditions to it which you can read on the site.
Yebhi.com offers free shipping on all there products allover India. And along with this, if you want to return the product, they even provide the free reverse pick up of the product from your place. All you need to do is to call them and request a reverse pick up of the product. More details about this you can read on the website.
No storage of Debit/Credit Card Credentials
Yebhi.com uses Axis bank payment gateway for transactions done by card and netbanking transactions happens on the respective bank websites itself, so they don't store customers card or netbanking credentials on their servers as well as nor this information is visible to any employee of them at any stage. Also they offer payment options via cheques too.
Final Verdict
With so many changes in the new layout, the website design looks stronger in winning consumer heart in future. However there is still a scope exist in increasing the website speed and product information to be more presented in a more beautified manner. And showing up related products addition is what every consumer looks after in an e-commerce portal product page. Hope Yebhi will consider these points as valid and take action as per this.
Related Posts:
Huawei New IDEOS X5 U8800 Pro Review, Price, Specifications And Features
Spider Man 4 Review (The Amazing Spider Man)
Pepsi Changed The Game By A Grand T20 Football Match
Samsung Galaxy S3 Review, Price, Specifications And Features
Internet On Vodafone And A True Smartphone – Makes Your Life Better
Philips Dry Iron Review, Price, Specification and Features
Yebhi.com Consumer Review About It's New Website Design – Review Center
Ankit Chugh
2012-08-09 23:28:59
Yebhi.com is one the leading e-commerce portal and had been successfully running in a long term now. The company behind this website is Big Shoe Bazaa…