This article is a partial list of all official service centers of Hitachi for Air Conditioners. However, i feel this list is not complete as i didn't had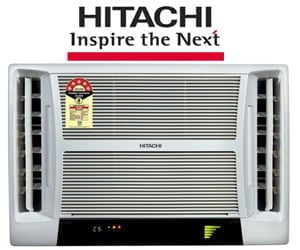 much source to get full official list of Service Center from Hitachi India. Still i complied a list of only official service centers of Hitachi air conditioners here. This list is applicable for both Hitachi Window Air Conditioners (AC) and Hitachi Split Air Conditioners (AC) respectively.
Read This: One thing here you'll observe is that for most of the states, only one service center address is provided. Its because i am not aware of every city in the state. Hence i found out the most common one and published here.

So, just in case, if for your city or nearby place, any service center address is not available in below given list, CALL the respective service center of your state by getting there contact no. below from the list and ask them for nearest service center address from your place. I am sure you'll find one nearby you.
Also if you want to contribute to this list voluntary, and you know any official service center which is not present in the list, do let us know about it in comments. It would be helpful of all readers here.
Hitachi Official Service Center List States wise:
Hitachi Service Centers in Andhra Pradesh
| Service Center Name | Contact Person | Address | Contact Mobile No | LandLine No | Mail Id |
| --- | --- | --- | --- | --- | --- |
| Hitachi Home Life Solutions India Ltd | | 201, Plot No 73, 2ND Floor, SMR House, Nagarjuna Hills, Panjagutta, Hyderabad – 500082 | | 040-23351593 | |
| Hitachi Home Life Solutions India Ltd | | 1ST Floor, SY No 75 (Part), Vittala Nagar, Chinnathokata, New Bowenpally, Hyderabad – 500011 | | 040-64549828 | |
| Hitachi Home Life Solutions India Ltd | | Plot No 42, D No 40-5/7-9/1, Ground Floor, Municipal Employees Colony, Near Care Hospital, Vijayawada, Vijayawada – 520001 | | 866-3201209 | |
Hitachi Service Center in Assam
| Service Center Name | Contact Person | Address | Contact Mobile No | LandLine No |
| --- | --- | --- | --- | --- |
| Hitachi Home Life Solutions India Ltd | | Kalita Market Room No 25, R P Road Ganeshguri, Opp Uco Bank, Guwahati – 781005 | | 361-2230946 |
Hitachi Service Centers in Bihar
| Service Center Name | Contact Person | Address | Contact Mobile No | LandLine No |
| --- | --- | --- | --- | --- |
| Hitachi Home Life Solutions India Ltd | | 103, First Floor, Jagat Trade Centre,, Fraser Road,, Frazer Road, Patna – 800001 | 9334412206 | |
| Hitachi Home Life Solutions India Ltd | | Ranchi | 9308308538 | |
| Hitachi Home Life Solutions India Ltd | | C/O Gati LTD ., Plot No. 2, Gate No. 2, Transport Nagar, Near Water Tank, Patna, Patna – 800026 | 9304428838 | |
Hitachi Service Centers in Delhi/NCR
| Service Center Name | Contact Person | Address | Contact Mobile No | LandLine No |
| --- | --- | --- | --- | --- |
| Hitachi Home Life Solutions India Ltd | | A-15,1ST FLR, Mohan Coop Indl Est, Mathura Road, Delhi – 110044 | | 011-26991360 |
| Hitachi Home Life Solutions India Ltd | | Off No-11-12, 1ST FLR, R-14/8, Shopper Sqaure, Raj Nagar, Ghaziabad – 201002 | | 120-2823139 |
| Hitachi Home Life Solutions India Ltd | | De – 79, Shop No – 6, Tagore Garden, Delhi – 110027 | 9871056656 | |
| Hitachi Home Life Solutions India Ltd | | 43, Whs Furniture Blk, Kirti Nagar, Delhi – 110015 | | 011-32095398 |
Hitachi Service Centers in Gujarat
| Service Center Name | Contact Person | Address | Contact Mobile No | LandLine No |
| --- | --- | --- | --- | --- |
| Hitachi Home & Life Solutions (India) Limited | Mr. Mitesh Parikh | Hitachi Complex, Karan Nagar Kadi, Dist. Mehsana, Dist. Mehsana, Mehsana Gujrat- 382727 | | 2764-277571 |
| Hitachi Home & Life Solutions (India) Limited | | 903, Abhijeet, 9TH Floor, Mithakhali Six Road, Mithakhali, Ahmedabad – 380009 | | 079-26400906 |
| Hitachi Home & Life Solutions (India) Limited | | Ashima Complex, Vill: Karan Nagar, Kadi-mehsana, Kadi, Mehsana – 382715 | 7936965575 | |
Hitachi Service Centers in Jharkhand
| Service Center Name | Contact Person | Address | Contact Mobile No | LandLine No |
| --- | --- | --- | --- | --- |
| Hitachi Home & Life Solutions (India) Limited | | 45 / A, Bhuyadih, Near Bank Of Baroda, Agrico, Jamshedpur – 831009 | | 657-3246353 |
Hitachi Service Center in Karnataka
| Service Center Name | Contact Person | Address | Contact Mobile No | LandLine No |
| --- | --- | --- | --- | --- |
| Hitachi Home & Life Solutions (India) Limited | | No.64, 6th Main, Santrupthi Nagar, Kothnoodinne Main Road, Jp Nagar 7th Phase, Bangalore – 560078 | | 80-26851193 |
Hitachi Service Center in Kerela
| Service Center Name | Contact Person | Address | Contact Mobile No | LandLine No |
| --- | --- | --- | --- | --- |
| Hitachi Home & Life Solutions (India) Limited | | No.g-37, Panampilly Nagar, Ernakulam – 682036 | | 484-2323136 |
Hitachi Service Center in Madhya Pradesh
| Service Center Name | Contact Person | Address | Contact Mobile No | LandLine No |
| --- | --- | --- | --- | --- |
| Hitachi Home & Life Solutions (India) Limited | | 2/5,103,Girnar Tower, New Palasia, Indore – 452001 | | 731-4050707 |
Hitachi Service Center in Maharashtra
| Service Center Name | Contact Person | Address | Contact Mobile No | LandLine No |
| --- | --- | --- | --- | --- |
| Hitachi Home & Life Solutions (India) Limited | | 414, A Wing Sagar Tech Plaza, Sakinaka Junction, Sakinaka, Andheri East, Mumbai – 400072 | | 022-35324848 |
| Hitachi Home & Life Solutions (India) Limited | | A 61, TTC Industrial Pawane, Kopar Khairane, Mumbai – 400709 | | 022-27689283 |
| Hitachi Home & Life Solutions (India) Limited | | 501/502, Prestige Ind Estate, Bawdi Lane, Marve Road, Near Orlem Church, Malad West, Mumbai – 400064 | | 022-28888991 |
| Hitachi Home & Life Solutions (India) Limited | | 811/812, Krushal Commercial Complex, M G Road, Above Shoppers Stop, Chembur West, Mumbai – 400089 | | 022-25277314 |
| Hitachi Home & Life Solutions (India) Limited | | O No 8 1ST FLR Mahaganesh Colony Commerce Avenue, Paud Rd, Opp P & G Showroom, Kothrud Depot, Pune – 411038 | | 020-25454745 |
| Hitachi Home & Life Solutions (India) Limited | | 153, Near It Park, Gayatri Nagar, Nagpur – 440022 | | 712-3222623 |
Hitachi Service Center in Odisha (Orrisa)
| Service Center Name | Contact Person | Address | Contact Mobile No | LandLine No |
| --- | --- | --- | --- | --- |
| Hitachi Home & Life Solutions (India) Limited | | Plot No:-N-4/37, Irc Village,, Irc Village, Bhubaneshwar – 751015 | | 674-2550730 |
Hitachi Service Center in Punjab
| Service Center Name | Contact Person | Address | Contact Mobile No | LandLine No |
| --- | --- | --- | --- | --- |
| Hitachi Home & Life Solutions (India) Limited | | SCO-392, 1ST FLR, Sector-37 D, Chandigarh – 160036 | | 172-2693165 |
Hitachi Service Center in Rajasthan
| Service Center Name | Contact Person | Address | Contact Mobile No | LandLine No |
| --- | --- | --- | --- | --- |
| Hitachi Home & Life Solutions (India) Limited | | 414,3RD FLR,Shalimar Cplx, Subhash Nagar Shoping Centre, Opp. Khandaka House, Shastri Nagar, Jaipur | | 141-5115700 |
Hitachi Service Center in Tamil Nadu
| Service Center Name | Contact Person | Address | Contact Mobile No | LandLine No |
| --- | --- | --- | --- | --- |
| Hitachi Home & Life Solutions (India) Limited | | No 47 Tulsi Apartments Ground Floor, 2nd Main Road, Next To Chennai Kaliappa Hospital, Raja Annamalai Puram, Chennai – 600028 | | 044-35324848 |
Hitachi Service Center in Uttar Pradesh
| Service Center Name | Contact Person | Address | Contact Mobile No | LandLine No |
| --- | --- | --- | --- | --- |
| Hitachi Home & Life Solutions (India) Limited | | 11,Choudhary Square, Faizabad Rd, Chandganj, Lucknow – 226007 | | 522-2379091 |
Hitachi Service Centers in West Bengal
| Service Center Name | Contact Person | Address | Contact Mobile No | LandLine No |
| --- | --- | --- | --- | --- |
| Hitachi Home & Life Solutions (India) Limited | | 5/2, Poonam Building, 9TH Floor, Flat 9 B, Russell Street, Near Icici Bank, Midleton Row, Kolkata – 700071 | | 033-22267434 |
Related Reviews of Air conditioners:
O'General Window Air Conditioner (AC) Review, Price, Features and Models
O'General Split Air Conditioner (AC) Review, Price, Features And Models
O'General Service Center List State Wise And Head, Regional, Branch Offices Locations
O'General Window AC Features & Technical Specifications Comparison Between All Models
Hitachi Window Air Conditioner (AC) Review, Price, Features And Models
Hitachi Split Air Conditioner (AC) Review, Price, Features And Models
Voltas Split Air Conditioner (AC) Review, Price, Features And Models
Samsung Split Air Conditioner (AC) Review, Price, Features And Models
LG Window Air Conditioner (AC) Review, Features, Models And Price
LG Split Air Conditioner (AC) Review, Price, Features And Models