Dell Blogathon 2012: An Awesome Bloggers Meet And It's Guest List
This was not the first time since i attended any bloggers meet. But indeed this was the first time that i attended such a wonderful meet. I had attended many meets before like of Indiblogger and many other social (small level & of corporate level) meets but this was something beyond that. Frankly speaking, i never thought this meet is going to be happen is such a lavish manner. My bad that i entered the meet half n hour late and lost some important presentations. But the thing more which stunned me was the crowd. Ok i never saw such crowd before in any meet. Now i see new generations in bloggers too even though blogging is not a very old thing to do.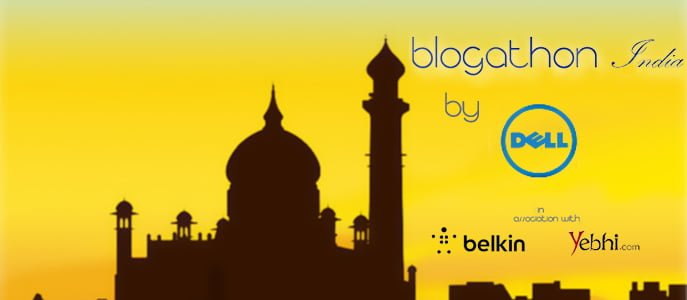 There were bloggers present from almost every niche, like Tech, Fashion, Food, Personal, Photography, Humor & many more. I saw Fashion bloggers sitting in group and having their own chit chat, yeah they were not interested in seeing sponsors presentations. Let it be, every one has its own interest of area. Then there were Tech bloggers who were quite busy in tweeting about the event, since everyone was after to get that projector. Interestingly many female bloggers too were busy tweeting implying on the statement "Why should boys have all the fun?"
Anyways, Dell Blogathon meet happened on 26th of May 2012 at 4th Floor, Second Sin, MGF Mall, Saket, New Delhi. This was one of its kind meet which was actually bloggers organized by blogger and was only for bloggers. This event was sponsered by DELL, Yehbhi.com and Belkin. So, the meet start off with sponsors presentations in which they showed us some slides related to their products. Like there were Mr. Shishir Singh who is director of Product Marketing at DELL and they were followed by presentations from Mr. Nitin Raj who is VP, Marketing at Yebhi.com & Mr. Mohit Anand who is Managing Director at Belkin!! If somehow you guys miss the agenda, here is it below:
| | |
| --- | --- |
| Time | Activity |
| 1:30pm | Registrations start |
| 2pm | Event Begins |
| 2:10pm | Presenation by Mr. Shishir Singh, Director, Product Marketing, Dell India |
| 2:40pm | Presentation by Mr. Nitin Raj, VP, Marketing, Yebhi.com |
| 3:05pm | Presentation by Mr. Mohit Anand, Managing Director, Belkin |
| 3:25pm | Snacks |
| 3:40pm | Amazing people series |
| 4:10pm | Amazing people series |
| 4:25pm | Amazing people series |
| 4:35pm | Presentation by Gaurav Mishra, Director of Digital and Social Media, MSLGROUP Asia |
| 4:55pm | Announcment of contest winners |
| 5:15-6pm | Neworking and wrap up |
One interesting thing i like personally is the YeBhi affiliate program. I would definitely look forward to try it and gained some good knowledge on Belkin products as well. I believe i am gonna review them in upcoming time here. After these, one of the most interesting part, Free Food, Free Beer!! Free food is like yeah, its normal, But Free Beer that too with unlimited availability. Even though i don't drink Beer, but yeah bloggers were more concentrated on having those gulp gulp gulp. All thanks to Fosters for those Free Beers!! This was the only event i ever attended where Beer was free and soft drink was paid, anyways that was a very small issue which was sorted out in few minutes and people were being served Soft drinks too free!! And there was an interesting thing about the menu of food. Those dishes were named on many online apps nomenclature. If you want to read about that interesting menu, read this post of Rekha Kakkar.
And after that break, the event reached it's most interesting part – Amazing People Series, in which we had the luck to see performance of Karan Singh who is a Psycho-illusionist who tricked the people very well and was followed by Abhishek Baxi who told everyone how he planned his whole marriage on an android app. After him, he was followed by Gaurav Mishra who is a blogger since 2004 and then finally the person Andy Hoffman or Uncle Andy who did the crime to steal the show from organizer to him by his awesome mimicry. Unfortunately mic disturbed him very well in his performance but indeed he made the people laugh so much that everyone was shouting "Once More" "One More". And then the winners were announced which concluded to the end of meet.
Dell Blogathon 2012 Bloggers Meet Pics
By Review Center India | View on Facebook
Blogathon 2012
By Shoutmeloud | View on Facebook
But, before writing this post, i saw some people cursing organizers in their post that the meet was not organized well or it was actually not a Bloggers meet. I would really like to draw attention of those people who said so because if they understand such meetings doesn't happens overnight. It was indeed 2 months of hard work from Organizer like Akshita Jain, Ankul Barar & Karan Bhujbal. It really takes the heart out to organize meet at such a big level where you have to manage people who are not just bloggers but are well established personalities as well. Also one has no right to comment out on dressing style of any blogger, its their life, its their lifestlye and they are free to live as they want. If one think, whatever happened was not so very right, there negative opinion matters nowhere in front of wholesome. One cannot claim the bloggers meet as a waste of time, just because they didn't got the chance to speak up about there blog. Speaking up about there own blog was not a part of agenda and hence no chance for anyone for that.
And now i am trying to make a list of Bloggers who attended this meet. I don't have the resources to get the whole list at once, so i am gonna list out few whom i know and those who were active on twitter with #dellblogathon. If i missed listing you down here, do let me know in comments. I'll update the list accordingly.