As the competition is going stiff because of lowering of 3G usage prices by other operators like Aircel or BSNL, Airtel also now slashed there 3G plans prices to a much extent. I am here listing down 3G plans applicable for every State where Airtel 3G services are available in India:
New Airtel 3G Plans State Wise of Prepaid And Postpaid
Steps to Activate 3G Services of Airtel in Gujrat, Haryana, Kerela, Madhya Pradesh, Chhattisgarh And UP East.
First time users please follow the steps as given below to go 3G in Gujarat:-
Select network settings to "automatic" on your handset
Choose "3G only mode" and wait for network registration.
After registration and seeing 3G network on your handset, Select "Dual Mode" or "3G and 2G mode" to enjoy 3G.
Subsequently just keep your Network settings on "dual mode". 3G services are being provided through roaming arrangement with Idea & Vodafone Cellular.
Salient features of the flexishield pack:
*Provides you flexibility to start from a lower rent and pay as per usage, instead of committing a higher rent upfront. When your total data bill reaches Rs. 2000, you can continue using data absolutely free, though at a reduced speed of 20 Kbps.
Since maximum data bill is capped, hence it shields you against a Bill Shock.
Some Terms And Conditions for using 3G Services:
You will not need to change your SIM card to enjoy airtel 3G services.
You will require a 3G enabled handset & airtel 3G network to enjoy airtel3G services – we recommend you to go for a HSPA handset, to truly enjoy the power of airtel 3G.
All packs will work on both handset and dongles and other 3G enabled devices like tablets/laptop etc.
Video call will be activated by default once customer is activated on 3G.
National roaming on 3G is available only on airtel 3G network.
Free data usage available in 3G data packs is not applicable while national and international roaming. Browsing charges of 3p/10KB will apply while roaming on airtel networks in India.
Video calls are NOT guaranteed on international roaming but might be successful in some networks.
Video calls if successful will be charged as per the visited network tariff.
Daily pack will lapse on day of recharge i.e. valid upto 23:59 hrs on the day of recharge.
You cannot recharge a data pack with another data pack till previous balance is above 50MB.
On recharge with new data pack (when balance less than 50MB)/change in existing pack, earlier data balance available in your account will be forfeited.
Actual Internet speed would depend on multiple factors like device, web pages accessed, time of day, number of simultaneous users etc.
Free data usage bundled with any existing offer including handset offers, will not be part of 3G services packs, unless mentioned explicitly.
Services on the airtel 3G USB internet modem are subject to airtel 3G network availability.
Airtel 3G Plans in Andhra Pradesh
Pack Type

Maximum




Service




Charge

Plan Benefit

Validity

Bill Shield Value (Postpaid only)

Charges Post




consumption




of Plan data




benefit (reset




every




recharge)

Charges Post




consumption




of Plan data




benefit (reset




every every




bill cycle)

Prepaid
 Postpaid
Sachet

Rs.9

–

30 min

1 day

NA

Rs 3/min

NA

Rs.45

–

140 MB

7 day

3p/10KB

NA

Standard

Rs.99

Rs.100

300 MB

30 days

Rs.750

3p/10KB

3p/10KB maximum upto Rs 750

Rs.250

Rs.250

1 GB

30 days

Rs.1000

3p/10KB maximum upto Rs 1000

Rs.450

Rs.450

2 GB

30 days

Rs.1500

3p/10KB maximum upto Rs 1500

Rs.750

–

4 GB

30 days

Rs.4000

3p/10KB maximum upto Rs 4000

FlexiShield

–

Rs.675

3.1 GB

30 days

After 3.1 GB, VBC of 2p/100KB upto a max shield (amount) of Rs 2000. Post hitting the shield value, enjoy free unlimited browsing at 20Kbps speed, validity 30 days.

High Value

Rs.1500

Rs.1500

10 GB

30 days

Rs.5000

3p/10KB

3p/10KB maximum upto Rs 5000

Volume Based Charging Packs

Pay as you go

0

0

–

Rs.1000

3p/10KB

3p/10KB
Airtel 3G Plans in Assam
Pack Type

Maximum




Service




Charge

Plan Benefit

Validity

Bill Shield Value (Postpaid only)

Charges Post




consumption




of Plan data




benefit (reset




every




recharge)

Charges Post




consumption




of Plan data




benefit (reset




every every




bill cycle)

Prepaid
 Postpaid
Sachet

Rs.8

–

30 min

1 day

NA

Rs 3/min

NA

Rs.47

–

140 MB

7 day

3p/10KB

NA

Standard

Rs.101

Rs.100

300 MB

30 days

Rs.750

3p/10KB

3p/10KB maximum upto Rs 750

Rs.250

Rs.250

1 GB

30 days

Rs.1000

3p/10KB maximum upto Rs 1000

Rs.450

Rs.450

2 GB

30 days

Rs.1500

3p/10KB maximum upto Rs 1500

Rs.750

–

4 GB

30 days

Rs.4000

3p/10KB maximum upto Rs 4000

FlexiShield

–

Rs.675

3.1 GB

30 days

After 3.1 GB, VBC of 2p/100KB upto a max shield (amount) of Rs 2000. Post hitting the shield value, enjoy free unlimited browsing at 20Kbps speed, validity 30 days.

High Value

Rs.1500

Rs.1500

10 GB

30 days

Rs.5000

3p/10KB

3p/10KB maximum upto Rs 5000

Volume Based Charging Packs

Pay as you go

0

0

–

Rs.1000

3p/10KB

3p/10KB
Airtel 3G Plans in Bihar
Pack Type

Maximum




Service




Charge

Plan Benefit

Validity

Bill Shield Value (Postpaid only)

Charges Post




consumption




of Plan data




benefit (reset




every




recharge)

Charges Post




consumption




of Plan data




benefit (reset




every every




bill cycle)

Prepaid

 Postpaid

Sachet

Rs.9

–

30 min

1 day

NA

Rs 3/min

NA

Rs.45

–

140 MB

7 day

3p/10KB

NA

Standard

Rs.102

Rs.100

300 MB

30 days

Rs.750

3p/10KB

3p/10KB maximum upto Rs 750

Rs.251

Rs.250

1 GB

30 days

Rs.1000

3p/10KB maximum upto Rs 1000

Rs.450

Rs.450

2 GB

30 days

Rs.1500

3p/10KB maximum upto Rs 1500

Rs.750

–

4 GB

30 days

Rs.4000

3p/10KB maximum upto Rs 4000

FlexiShield

–

Rs.675

3.1 GB

30 days

After 3.1 GB, VBC of 2p/100KB upto a max shield (amount) of Rs 2000. Post hitting the shield value, enjoy free unlimited browsing at 20Kbps speed, validity 30 days.

High Value

Rs.1500

Rs.1500

10 GB

30 days

Rs.5000

3p/10KB

3p/10KB maximum upto Rs 5000

Volume Based Charging Packs

Pay as you go

0

0

–

Rs.1000

3p/10KB

3p/10KB
Airtel 3G Plans in Chennai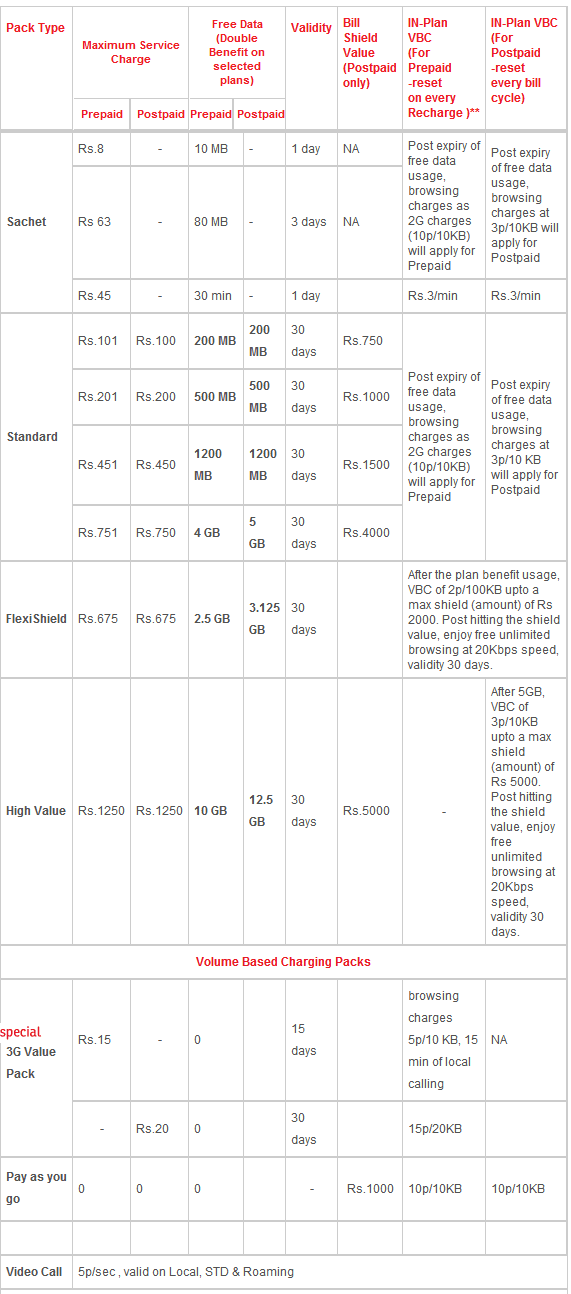 Airtel 3G Plans in Delhi
Pack Type

Maximum




Service




Charge

Plan Benefit

Validity

Bill Shield Value (Postpaid only)

Charges Post




consumption




of Plan data




benefit (reset




every




recharge)

Charges Post




consumption




of Plan data




benefit (reset




every every




bill cycle)

Prepaid

 Postpaid

Sachet

Rs.11

–

30 min

1 day

NA

Rs 3/min

NA

Rs.49

–

140 MB

7 day

3p/10KB

NA

Standard

Rs.99

Rs.100

300 MB

30 days

Rs.750

3p/10KB

3p/10KB maximum upto Rs 750

Rs.250

Rs.250

1 GB

30 days

Rs.1000

3p/10KB maximum upto Rs 1000

Rs.450

Rs.450

2 GB

30 days

Rs.1500

3p/10KB maximum upto Rs 1500

Rs.750

–

4 GB

30 days

Rs.4000

3p/10KB maximum upto Rs 4000

FlexiShield

–

Rs.675

3.1 GB

30 days

After 3.1 GB, VBC of 2p/100KB upto a max shield (amount) of Rs 2000. Post hitting the shield value, enjoy free unlimited browsing at 20Kbps speed, validity 30 days.

High Value

Rs.1500

Rs.1500

10 GB

30 days

Rs.5000

3p/10KB

3p/10KB maximum upto Rs 5000

Volume Based Charging Packs

Pay as you go

0

0

–

Rs.1000

3p/10KB

3p/10KB
Airtel 3G Plans in Gujarat
Pack Type

Maximum




Service




Charge

Plan Benefit

Validity

Bill Shield Value (Postpaid only)

Charges Post




consumption




of Plan data




benefit (reset




every




recharge)

Charges Post




consumption




of Plan data




benefit (reset




every every




bill cycle)

Prepaid

 Postpaid

Sachet

Rs.8

–

30 min

1 day

NA

Rs 3/min

NA

Rs.45

–

140 MB

7 day

3p/10KB

NA

Standard

Rs.103

Rs.100

300 MB

30 days

Rs.750

3p/10KB

3p/10KB maximum upto Rs 750

Rs.252

Rs.250

1 GB

30 days

Rs.1000

3p/10KB maximum upto Rs 1000

Rs.450

Rs.450

2 GB

30 days

Rs.1500

3p/10KB maximum upto Rs 1500

Rs.750

–

4 GB

30 days

Rs.4000

3p/10KB maximum upto Rs 4000

FlexiShield

–

Rs.675

3.1 GB

30 days

After 3.1 GB, VBC of 2p/100KB upto a max shield (amount) of Rs 2000. Post hitting the shield value, enjoy free unlimited browsing at 20Kbps speed, validity 30 days.

High Value

Rs.1500

Rs.1500

10 GB

30 days

Rs.5000

3p/10KB

3p/10KB maximum upto Rs 5000

Volume Based Charging Packs

Pay as you go

0

0

–

Rs.1000

3p/10KB

3p/10KB

Dongle first recharge options

Standard – 2G first recharge

Rs.92

2GB

30 days

Post expiry of free data usage, browsing charges of 30p/20KB will apply

Standard – 3G first recharge

Rs.93

2GB

30days

Post expiry of free data usage, browsing charges of 30p/20KB will apply
Airtel 3G Plans in Haryana
Pack Type

Maximum




Service




Charge

Plan Benefit

Validity

Bill Shield Value (Postpaid only)

Charges Post




consumption




of Plan data




benefit (reset




every




recharge)

Charges Post




consumption




of Plan data




benefit (reset




every every




bill cycle)

Prepaid

 Postpaid

Sachet

Rs.8

–

30 min

1 day

NA

Rs 3/min

NA

Rs.43

–

150 MB

7 day

3p/10KB

NA

Standard

Rs.101

Rs.100

300 MB

30 days

Rs.750

3p/10KB

3p/10KB maximum upto Rs 750

Rs.252

Rs.250

1 GB

30 days

Rs.1000

3p/10KB maximum upto Rs 1000

Rs.450

Rs.450

2 GB

30 days

Rs.1500

3p/10KB maximum upto Rs 1500

Rs.750

–

4 GB

30 days

Rs.4000

3p/10KB maximum upto Rs 4000

FlexiShield

–

Rs.675

3.1 GB

30 days

After 3.1 GB, VBC of 2p/100KB upto a max shield (amount) of Rs 2000. Post hitting the shield value, enjoy free unlimited browsing at 20Kbps speed, validity 30 days.

High Value

Rs.1500

Rs.1500

10 GB

30 days

Rs.5000

3p/10KB

3p/10KB maximum upto Rs 5000

Volume Based Charging Packs

Pay as you go

0

0

–

Rs.1000

3p/10KB

3p/10KB
Airtel 3G Plans in Himachal Pradesh
Pack Type

Maximum




Service




Charge

Plan Benefit

Validity

Bill Shield Value (Postpaid only)

Charges Post




consumption




of Plan data




benefit (reset




every




recharge)

Charges Post




consumption




of Plan data




benefit (reset




every every




bill cycle)

Prepaid

 Postpaid

Sachet

Rs.11

–

30 min

1 day

NA

Rs 3/min

NA

Rs.37

–

140 MB

7 day

3p/10KB

NA

Standard

Rs.101

Rs.100

300 MB

30 days

Rs.750

3p/10KB

3p/10KB maximum upto Rs 750

Rs.252

Rs.250

1 GB

30 days

Rs.1000

3p/10KB maximum upto Rs 1000

Rs.450

Rs.450

2 GB

30 days

Rs.1500

3p/10KB maximum upto Rs 1500

Rs.750

–

4 GB

30 days

Rs.4000

3p/10KB maximum upto Rs 4000

FlexiShield

–

Rs.675

3.1 GB

30 days

After 3.1 GB, VBC of 2p/100KB upto a max shield (amount) of Rs 2000. Post hitting the shield value, enjoy free unlimited browsing at 20Kbps speed, validity 30 days.

High Value

Rs.1500

Rs.1500

10 GB

30 days

Rs.5000

3p/10KB

3p/10KB maximum upto Rs 5000

Volume Based Charging Packs

Pay as you go

0

0

–

Rs.1000

3p/10KB

3p/10KB
Airtel 3G Plans in Jammu And Kashmir
Pack Type

Maximum




Service




Charge

Plan Benefit

Validity

Bill Shield Value (Postpaid only)

Charges Post




consumption




of Plan data




benefit (reset




every




recharge)

Charges Post




consumption




of Plan data




benefit (reset




every every




bill cycle)

Prepaid

 Postpaid

Sachet

Rs.9

–

30 min

1 day

NA

Rs 3/min

NA

Rs.44

–

140 MB

7 day

3p/10KB

NA

Standard

Rs.103

Rs.100

300 MB

30 days

Rs.750

3p/10KB

3p/10KB maximum upto Rs 750

Rs.252

Rs.250

1 GB

30 days

Rs.1000

3p/10KB maximum upto Rs 1000

Rs.450

Rs.450

2 GB

30 days

Rs.1500

3p/10KB maximum upto Rs 1500

Rs.750

–

4 GB

30 days

Rs.4000

3p/10KB maximum upto Rs 4000

FlexiShield

–

Rs.675

3.1 GB

30 days

After 3.1 GB, VBC of 2p/100KB upto a max shield (amount) of Rs 2000. Post hitting the shield value, enjoy free unlimited browsing at 20Kbps speed, validity 30 days.

High Value

Rs.1500

Rs.1500

10 GB

30 days

Rs.5000

3p/10KB

3p/10KB maximum upto Rs 5000

Volume Based Charging Packs

Pay as you go

0

0

–

Rs.1000

3p/10KB

3p/10KB
Airtel 3G Plans in Karnataka
Pack Type

Maximum




Service




Charge

Plan Benefit

Validity

Bill Shield Value (Postpaid only)

Charges Post




consumption




of Plan data




benefit (reset




every




recharge)

Charges Post




consumption




of Plan data




benefit (reset




every every




bill cycle)

Prepaid

 Postpaid

Sachet

Rs.9

–

30 min

1 day

NA

Rs 3/min

NA

Rs.47

–

140 MB

7 day

3p/10KB

NA

Standard

Rs.103

Rs.100

300 MB

30 days

Rs.750

3p/10KB

3p/10KB maximum upto Rs 750

Rs.255

Rs.250

1 GB

30 days

Rs.1000

3p/10KB maximum upto Rs 1000

Rs.450

Rs.450

2 GB

30 days

Rs.1500

3p/10KB maximum upto Rs 1500

Rs.750

–

4 GB

30 days

Rs.4000

3p/10KB maximum upto Rs 4000

FlexiShield

–

Rs.675

3.1 GB

30 days

After 3.1 GB, VBC of 2p/100KB upto a max shield (amount) of Rs 2000. Post hitting the shield value, enjoy free unlimited browsing at 20Kbps speed, validity 30 days.

High Value

Rs.1500

Rs.1500

10 GB

30 days

Rs.5000

3p/10KB

3p/10KB maximum upto Rs 5000

Volume Based Charging Packs

Pay as you go

0

0

–

Rs.1000

3p/10KB

3p/10KB
Airtel 3G Plans in Kerela
Pack Type

Maximum




Service




Charge

Plan Benefit

Validity

Bill Shield Value (Postpaid only)

Charges Post




consumption




of Plan data




benefit (reset




every




recharge)

Charges Post




consumption




of Plan data




benefit (reset




every every




bill cycle)

Prepaid
 Postpaid

Sachet

Rs.8

–

30 min

1 day

NA

Rs 3/min

NA

Rs.48

–

140 MB

7 day

3p/10KB

NA

Standard

Rs.104

Rs.100

300 MB

30 days

Rs.750

3p/10KB

3p/10KB maximum upto Rs 750

Rs.250

Rs.250

1 GB

30 days

Rs.1000

3p/10KB maximum upto Rs 1000

Rs.450

Rs.450

2 GB

30 days

Rs.1500

3p/10KB maximum upto Rs 1500

Rs.751

–

4 GB

30 days

Rs.4000

3p/10KB maximum upto Rs 4000

FlexiShield

–

Rs.675

3.1 GB

30 days

After 3.1 GB, VBC of 2p/100KB upto a max shield (amount) of Rs 2000. Post hitting the shield value, enjoy free unlimited browsing at 20Kbps speed, validity 30 days.

High Value

Rs.1500

Rs.1500

10 GB

30 days

Rs.5000

3p/10KB

3p/10KB maximum upto Rs 5000

Volume Based Charging Packs

Pay as you go

0

0

–

Rs.1000

3p/10KB

3p/10KB
Airtel 3G Plans in Kolkata
Pack Type

Maximum




Service




Charge

Plan Benefit

Validity

Bill Shield Value (Postpaid only)

Charges Post




consumption




of Plan data




benefit (reset




every




recharge)

Charges Post




consumption




of Plan data




benefit (reset




every every




bill cycle)

Prepaid

 Postpaid

Sachet

Rs.9

–

30 min

1 day

NA

Rs 3/min

NA

Rs.47

–

140 MB

7 day

3p/10KB

NA

Standard

Rs.97

Rs.100

300 MB

30 days

Rs.750

3p/10KB

3p/10KB maximum upto Rs 750

Rs.250

Rs.250

1 GB

30 days

Rs.1000

3p/10KB maximum upto Rs 1000

Rs.449

Rs.450

2 GB

30 days

Rs.1500

3p/10KB maximum upto Rs 1500

Rs.750

–

4 GB

30 days

Rs.4000

3p/10KB maximum upto Rs 4000

FlexiShield

–

Rs.675

3.1 GB

30 days

After 3.1 GB, VBC of 2p/100KB upto a max shield (amount) of Rs 2000. Post hitting the shield value, enjoy free unlimited browsing at 20Kbps speed, validity 30 days.

High Value

Rs.1499

Rs.1500

10 GB

30 days

Rs.5000

3p/10KB

3p/10KB maximum upto Rs 5000

Volume Based Charging Packs

Pay as you go

0

0

–

Rs.1000

3p/10KB

3p/10KB
Airtel 3G Plans in North East
Pack Type

Maximum




Service




Charge

Plan Benefit

Validity

Bill Shield Value (Postpaid only)

Charges Post




consumption




of Plan data




benefit (reset




every




recharge)

Charges Post




consumption




of Plan data




benefit (reset




every every




bill cycle)

Prepaid

 Postpaid

Sachet

Rs.8

–

30 min

1 day

NA

Rs 3/min

NA

Rs.47

–

140 MB

7 day

3p/10KB

NA

Standard

Rs.101

Rs.100

300 MB

30 days

Rs.750

3p/10KB

3p/10KB maximum upto Rs 750

Rs.250

Rs.250

1 GB

30 days

Rs.1000

3p/10KB maximum upto Rs 1000

Rs.450

Rs.450

2 GB

30 days

Rs.1500

3p/10KB maximum upto Rs 1500

Rs.750

–

4 GB

30 days

Rs.4000

3p/10KB maximum upto Rs 4000

FlexiShield

–

Rs.675

3.1 GB

30 days

After 3.1 GB, VBC of 2p/100KB upto a max shield (amount) of Rs 2000. Post hitting the shield value, enjoy free unlimited browsing at 20Kbps speed, validity 30 days.

High Value

Rs.1500

Rs.1500

10 GB

30 days

Rs.5000

3p/10KB

3p/10KB maximum upto Rs 5000

Volume Based Charging Packs

Pay as you go

0

0

–

Rs.1000

3p/10KB

3p/10KB
Airtel 3G Plans in Madhya Pradesh And Chhattisgarh
Pack Type

Maximum




Service




Charge

Plan Benefit

Validity

Bill Shield Value (Postpaid only)

Charges Post




consumption




of Plan data




benefit (reset




every




recharge)

Charges Post




consumption




of Plan data




benefit (reset




every every




bill cycle)

Prepaid

 Postpaid

Sachet

Rs.9

–

30 min

1 day

NA

Rs 3/min

NA

Rs.44

–

140 MB

7 day

3p/10KB

NA

Standard

Rs.102

Rs.100

300 MB

30 days

Rs.750

3p/10KB

3p/10KB maximum upto Rs 750

Rs.250

Rs.250

1 GB

30 days

Rs.1000

3p/10KB maximum upto Rs 1000

Rs.451

Rs.450

2 GB

30 days

Rs.1500

3p/10KB maximum upto Rs 1500

Rs.750

–

4 GB

30 days

Rs.4000

3p/10KB maximum upto Rs 4000

FlexiShield

–

Rs.675

3.1 GB

30 days

After 3.1 GB, VBC of 2p/100KB upto a max shield (amount) of Rs 2000. Post hitting the shield value, enjoy free unlimited browsing at 20Kbps speed, validity 30 days.

High Value

Rs.1500

Rs.1500

10 GB

30 days

Rs.5000

3p/10KB

3p/10KB maximum upto Rs 5000

Volume Based Charging Packs

Pay as you go

0

0

–

Rs.1000

3p/10KB

3p/10KB
Airtel 3G Plans in Maharashtra And Goa
Pack Type

Maximum




Service




Charge

Plan Benefit

Validity

Bill Shield Value (Postpaid only)

Charges Post




consumption




of Plan data




benefit (reset




every




recharge)

Charges Post




consumption




of Plan data




benefit (reset




every every




bill cycle)

Prepaid

 Postpaid

Sachet

Rs.13

–

30 min

1 day

NA

Rs 3/min

NA

Rs.53

–

140 MB

7 day

3p/10KB

NA

Standard

Rs.101

Rs.100

300 MB

30 days

Rs.750

3p/10KB

3p/10KB maximum upto Rs 750

Rs.252

Rs.250

1 GB

30 days

Rs.1000

3p/10KB maximum upto Rs 1000

Rs.451

Rs.450

2 GB

30 days

Rs.1500

3p/10KB maximum upto Rs 1500

Rs.750

–

4 GB

30 days

Rs.4000

3p/10KB maximum upto Rs 4000

FlexiShield

–

Rs.675

3.1 GB

30 days

After 3.1 GB, VBC of 2p/100KB upto a max shield (amount) of Rs 2000. Post hitting the shield value, enjoy free unlimited browsing at 20Kbps speed, validity 30 days.

High Value

Rs.1500

Rs.1500

10 GB

30 days

Rs.5000

3p/10KB

3p/10KB maximum upto Rs 5000

Volume Based Charging Packs

Pay as you go

0

0

–

Rs.1000

3p/10KB

3p/10KB
 Airtel 3G Plans in Mumbai
Pack Type

Maximum




Service




Charge

Plan Benefit

Validity

Bill Shield Value (Postpaid only)

Charges Post




consumption




of Plan data




benefit (reset




every




recharge)

Charges Post




consumption




of Plan data




benefit (reset




every every




bill cycle)

Prepaid

 Postpaid

Sachet

Rs.13

–

30 min

1 day

NA

Rs 3/min

NA

Rs.41

–

140 MB

7 day

3p/10KB

NA

Standard

Rs.101

Rs.100

300 MB

30 days

Rs.750

3p/10KB

3p/10KB maximum upto Rs 750

Rs.252

Rs.250

1 GB

30 days

Rs.1000

3p/10KB maximum upto Rs 1000

Rs.450

Rs.450

2 GB

30 days

Rs.1500

3p/10KB maximum upto Rs 1500

Rs.750

–

4 GB

30 days

Rs.4000

3p/10KB maximum upto Rs 4000

FlexiShield

–

Rs.675

3.1 GB

30 days

After 3.1 GB, VBC of 2p/100KB upto a max shield (amount) of Rs 2000. Post hitting the shield value, enjoy free unlimited browsing at 20Kbps speed, validity 30 days.

High Value

Rs.1500

Rs.1500

10 GB

30 days

Rs.5000

3p/10KB

3p/10KB maximum upto Rs 5000

Volume Based Charging Packs

Pay as you go

0

0

–

Rs.1000

3p/10KB

3p/10KB
Airtel 3G Plans in Rajasthan
Pack Type

Maximum




Service




Charge

Plan Benefit

Validity

Bill Shield Value (Postpaid only)

Charges Post




consumption




of Plan data




benefit (reset




every




recharge)

Charges Post




consumption




of Plan data




benefit (reset




every every




bill cycle)

Prepaid
 Postpaid

Sachet

Rs.11

–

30 min

1 day

NA

Rs 3/min

NA

Rs.43

–

140 MB

7 day

3p/10KB

NA

Standard

Rs.103

Rs.100

300 MB

30 days

Rs.750

3p/10KB

3p/10KB maximum upto Rs 750

Rs.250

Rs.250

1 GB

30 days

Rs.1000

3p/10KB maximum upto Rs 1000

Rs.450

Rs.450

2 GB

30 days

Rs.1500

3p/10KB maximum upto Rs 1500

Rs.750

–

4 GB

30 days

Rs.4000

3p/10KB maximum upto Rs 4000

FlexiShield

–

Rs.675

3.1 GB

30 days

After 3.1 GB, VBC of 2p/100KB upto a max shield (amount) of Rs 2000. Post hitting the shield value, enjoy free unlimited browsing at 20Kbps speed, validity 30 days.

High Value

Rs.1500

Rs.1500

10 GB

30 days

Rs.5000

3p/10KB

3p/10KB maximum upto Rs 5000

Volume Based Charging Packs

Pay as you go

0

0

–

Rs.1000

3p/10KB

3p/10KB
Airtel 3G Plans in Tamil Nadu
Pack Type

Maximum




Service




Charge

Plan Benefit

Validity

Bill Shield Value (Postpaid only)

Charges Post




consumption




of Plan data




benefit (reset




every




recharge)

Charges Post




consumption




of Plan data




benefit (reset




every every




bill cycle)

Prepaid

 Postpaid

Sachet

Rs.8

–

30 min

1 day

NA

Rs 3/min

NA

Rs.45

–

140 MB

7 day

3p/10KB

NA

Standard

Rs.101

Rs.100

300 MB

30 days

Rs.750

3p/10KB

3p/10KB maximum upto Rs 750

Rs.250

Rs.250

1 GB

30 days

Rs.1000

3p/10KB maximum upto Rs 1000

Rs.451

Rs.450

2 GB

30 days

Rs.1500

3p/10KB maximum upto Rs 1500

Rs.751

–

4 GB

30 days

Rs.4000

3p/10KB maximum upto Rs 4000

FlexiShield

–

Rs.675

3.1 GB

30 days

After 3.1 GB, VBC of 2p/100KB upto a max shield (amount) of Rs 2000. Post hitting the shield value, enjoy free unlimited browsing at 20Kbps speed, validity 30 days.

High Value

Rs.1500

Rs.1500

10 GB

30 days

Rs.5000

3p/10KB

3p/10KB maximum upto Rs 5000

Volume Based Charging Packs

Pay as you go

0

0

–

Rs.1000

3p/10KB

3p/10KB
Airtel 3G Plans in UP East, UP West, Uttarakhand
Pack Type

Maximum




Service




Charge

Plan Benefit

Validity

Bill Shield Value (Postpaid only)

Charges Post




consumption




of Plan data




benefit (reset




every




recharge)

Charges Post




consumption




of Plan data




benefit (reset




every every




bill cycle)

Prepaid

 Postpaid

Sachet

Rs.9

–

30 min

1 day

NA

Rs 3/min

NA

Rs.45

–

140 MB

7 day

3p/10KB

NA

Standard

Rs.97

Rs.100

300 MB

30 days

Rs.750

3p/10KB

3p/10KB maximum upto Rs 750

Rs.249

Rs.250

1 GB

30 days

Rs.1000

3p/10KB maximum upto Rs 1000

Rs.450

Rs.450

2 GB

30 days

Rs.1500

3p/10KB maximum upto Rs 1500

Rs.750

–

4 GB

30 days

Rs.4000

3p/10KB maximum upto Rs 4000

FlexiShield

–

Rs.675

3.1 GB

30 days

After 3.1 GB, VBC of 2p/100KB upto a max shield (amount) of Rs 2000. Post hitting the shield value, enjoy free unlimited browsing at 20Kbps speed, validity 30 days.

High Value

Rs.1499

Rs.1500

10 GB

30 days

Rs.5000

3p/10KB

3p/10KB maximum upto Rs 5000

Volume Based Charging Packs

Pay as you go

0

0

–

Rs.1000

3p/10KB

3p/10KB
Airtel 3G Plans in West Bengal
Pack Type

Maximum




Service




Charge

Plan Benefit

Validity

Bill Shield Value (Postpaid only)

Charges Post




consumption




of Plan data




benefit (reset




every




recharge)

Charges Post




consumption




of Plan data




benefit (reset




every every




bill cycle)

Prepaid

 Postpaid

Sachet

Rs.9

–

30 min

1 day

NA

Rs 3/min

NA

Rs.45

–

140 MB

7 day

3p/10KB

NA

Standard

Rs.103

Rs.100

300 MB

30 days

Rs.750

3p/10KB

3p/10KB maximum upto Rs 750

Rs.250

Rs.250

1 GB

30 days

Rs.1000

3p/10KB maximum upto Rs 1000

Rs.450

Rs.450

2 GB

30 days

Rs.1500

3p/10KB maximum upto Rs 1500

Rs.750

–

4 GB

30 days

Rs.4000

3p/10KB maximum upto Rs 4000

FlexiShield

–

Rs.675

3.1 GB

30 days

After 3.1 GB, VBC of 2p/100KB upto a max shield (amount) of Rs 2000. Post hitting the shield value, enjoy free unlimited browsing at 20Kbps speed, validity 30 days.

High Value

Rs.1499

Rs.1500

10 GB

30 days

Rs.5000

3p/10KB

3p/10KB maximum upto Rs 5000

Volume Based Charging Packs

Pay as you go

0

0

–

Rs.1000

3p/10KB

3p/10KB