Thanks to Vodafone for inspiring me to write this post. This post is about telling few things which are a daily part of my typical life routine. But being typical life doesn't mean that it scheduled with fixed bars of timings. The meaning of being typical here is getting addicted to all the technological advancement we are getting in our life and i am now just habitual of accepting and using those. I am now a typical user and habitual and a slave of using these gadgets which have become an essential part of my life and i can't even dream of living without these. I am a typical user of Vodafone since last 7 years, and have been using a smartphone, a true smartphone since last 1.5 years. No matter, i never wondered that these smartphone's have become such a part of mine that i don't remain apart from them for even an hour.
And since last 2 years, i have been using 2G and 3G services both of Vodafone and you believe me or not, my life had real fun now and i am now able to utilize fully my smartphone in true sense. For me, the fun is when you do something, anything which may help me in doing that thing faster and also it's like a blessing for me. I simply crave for these blessing all the time. Speaking of why so i crave, because i am a working person and a blogger as well, so i get very little time for doing my blogging part and for a blogger, it's important for him to remain connected all the time to social networks and much more places to keep him updated with all the happenings of nearby. And since i am into an engineering company where social networking websites like Facebook or Twitter are blocked always, then it becomes a bit difficult to remain connected to this online and social world. This is where i feel blessed to have internet services and owing a Smartphone.
So, here i am going to list out applications (alphabetically), describing how using internet services on my (Android) smartphone had made it truly useful for me in true sense other than just Calling and SMSing: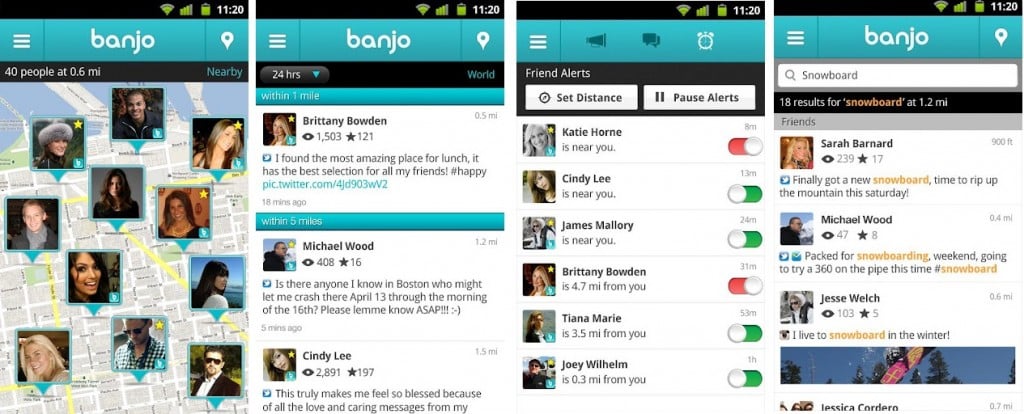 This app always had brought a freshness in my life by introducing to new people often. This application shows who has checked in to some place nearby to you within few km range and show their tweets and foursquare check-in's. I reply to their tweets or their questions and many things and this is how i usually come across meeting many new people. This application also helps me in getting alerts for specific friends if they are nearby in some range to me anytime. Also if you search for particular keyword in the application, it will show you related results from Twitter and Foursquare as well.
Here for Banjo and for some more applications mentioned below i am showing official screenshot of these applications as i can't show mine due to privacy reasons or i am unable to take screen-shots of those due to hardware limitation.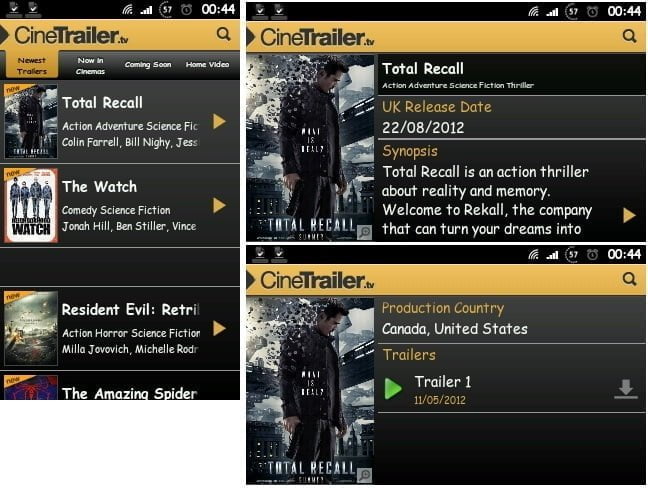 This application i use it to watch movie trailers on the go. Sometimes when i am out to see a Hindi movie, and get a house-full board on ticket counter, the only thing i like to open is this application, watch the movie trailer of any Hollywood movie running during that time and if found any movie interesting, we go for watching that movie. Watching Hollywood movies had always been a priority to me over Hindi movies but this is something my friends don't like so i like seeing house-full board on Hindi movies ticket counter and convince them to see Hollywood movies rather.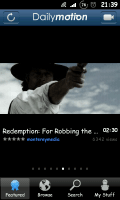 This is a very popular video watching website after youtube and its application is also simply awesome. Since i also have a video site, so i always need to keep myself updated with latest videos on internet and this is one of the application which helps me keeping update with those with some special videos on it.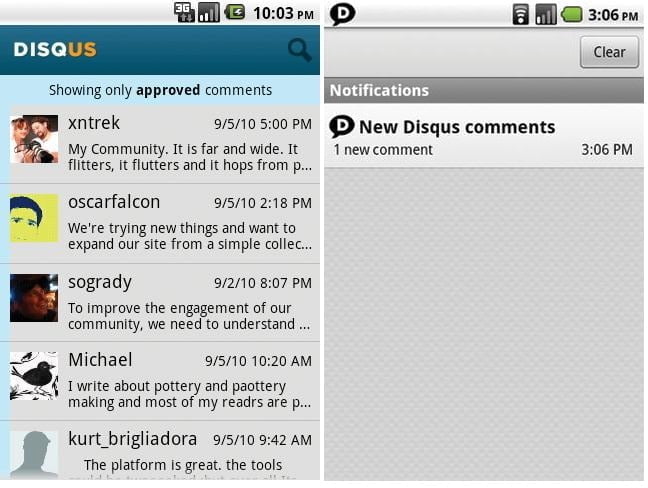 Office means simply no blogging. And then again no access to websites admin part to manage comments as well. So, this application is one of the major reason why i use Disqus comments on my blogs. I can check comments my readers wrote on my articles on phone itself and i can reply on them within the application and there is no need for me to actually open the article and reply to comments. This makes my readers happy too that they get the reply to their comments at earliest. This application also supports push notifications and makes me aware of comments instantly as it happens.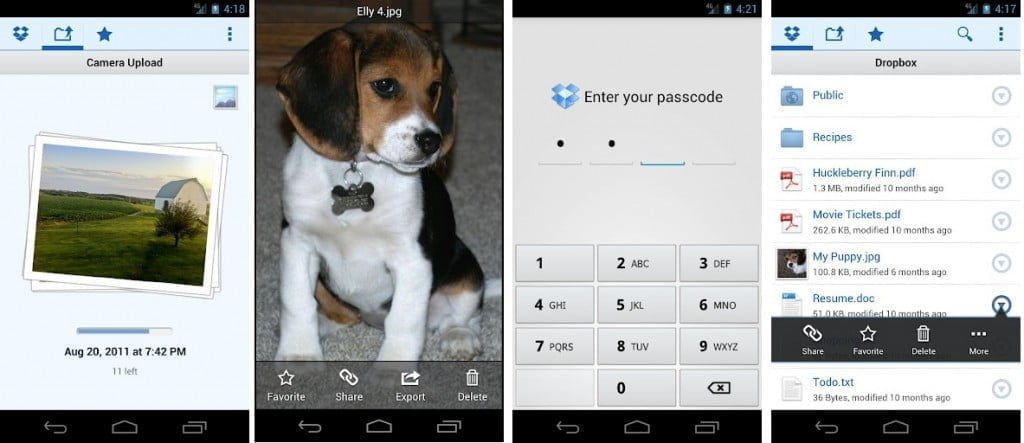 I simply love this application. This application had made me tension free by taking auto backup of my pictures and videos i shoot. Now i never care for taking manual backups of my sd card since all the information get stored on cloud fast using this. I have a 19.38GB sized account of Dropbox so i never care for space as well. And using cloud services make me feel advanced so i just love using it. Also you can password protect your dropbox app and you'll never need to care for privacy as well. Just in case if you don't have a Dropbox account, you can sign up using this link. It's simply awesome.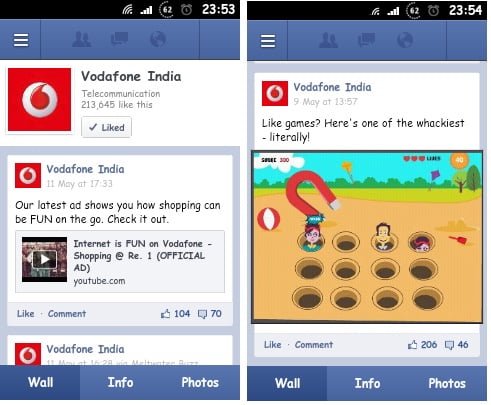 I am writing this article alphabetically otherwise i would have wrote about this app at first. Approx 80% of the smartphone's users who have Facebook account have this application installed as well on their phones. This application saves lots of time of mine  i may spend on public computer in my office to access Facebook. This is a must have app for me.
Usually i used to have SMS package on my no. all the time but when it gets over and still when i need to do few texts to friends urgently, this application comes at very handy to me. This application only uses internet data to send SMS using many famous gateways like Indyarocks, whozzat, clickatell, sms440, way2sms, fullonsms, site2sms and 160by2. It also supports many other gateways of Czech country as well, but that is of no use for us. It has a very nice layout and you can choose any gateway you activated while sending the SMS and it also show statics of how many paid (default operator) and free SMS i sent using this application.
This application was the first reason why i bought my first Android phone. It helps me finding locations and directions to anywhere, finding travelling routes whether you would be travelling by your own, or by public transit or if  you need biking or walking direction, this is the best application i know for these things. I know MapMyIndia has more comprehensive and detailed results if compared to Google Maps but then it is a paid application and Google Maps is free. This is the biggest eye candy factor for me for using this application.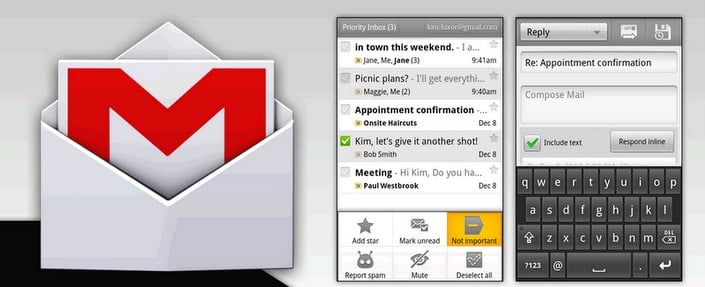 Do i need to tell you guys about this app too? Yes it is Gmail. Again it's a must have app for me since it keeps letting me know the e-mails i receive in my inbox instantly. I just love Google mail and i love this app as well. I too even manage multiple account of Google App mail as well in this application.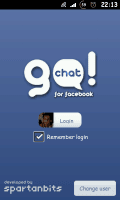 This application is for doing chat for Facebook friends. I can use Nimbuzz or IMO for doing the same, but i love this application more since it doesn't run at background all the time like others app do and show me online only during the time period i want. Also doing chat with 2-3 persons at same time is easy using this application. Also it supports sharing images, location, Videos and even notes over chat.

This application has many usable features like Checking PNR Status, Trains search, seat availability, train arrival and departure time, fair enquiry and many more, but i use this application only for checking PNR status that too for my office friends or others who when are out give me a call to check the PNR status of there tickets and i tell them instantly using this app.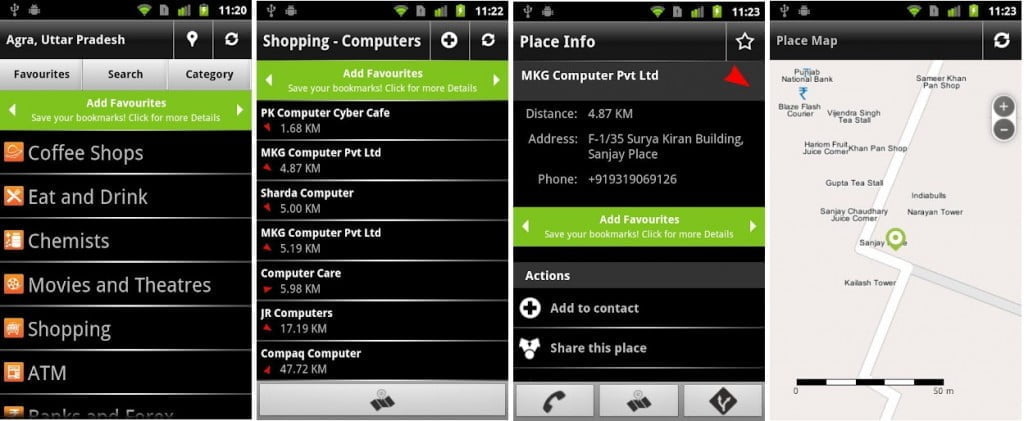 This application is what i call life saver application. It helps me in finding out things and places nearby to my any current location. Just suppose i am standing at an unknown place, and this app helps me finding anything i want like ATM, Restaurants, Hotels, Chemists, Movie Theaters, Shopping Malls, Banks, Petrol or CNG pumps, Hospitals or say anything. This application use your GPS to track your current location and if your phone don't have GPS, then it can check your location by nearby tower and suggest you the best results accordingly and as per my experience with this app, it never showed me wrong results and had been accurate most of the time. Google Places also have the same functionality but the search results by this application are better as per my experience, however still one must use both application to find anything nearby to get more best results, but start first using this application. You can also try app of JustDial too, but this doesn't work without GPS.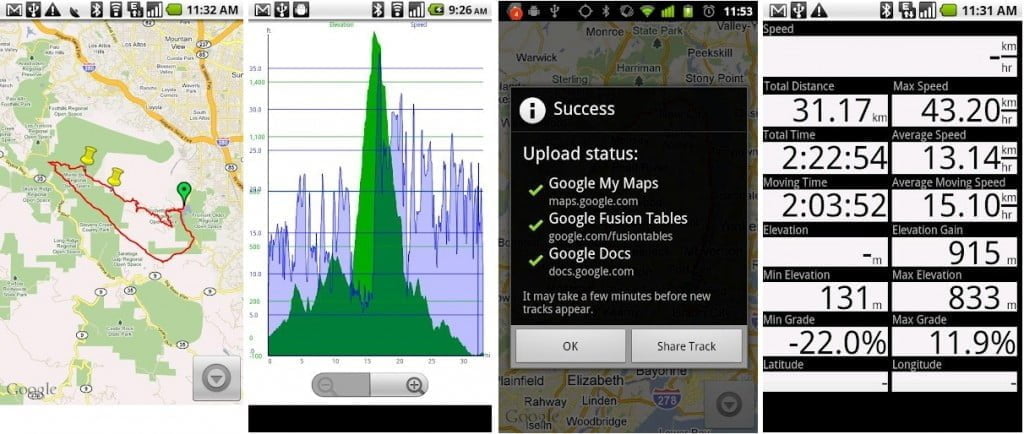 This application is a Gift to Android by Google. I simply love this application. This application helps me record and share the path of route i traveled to others. Usually i don't show this record to anyone, but yes i do record the path whenever i am travelling to any new place. This application use phone GPS sensor to track and record the path you took. It also shows me statics of my travel like Time i took, how much distance i traveled and even elevation which is of no use for me, however elevation is useful for mountaineer's. You can even save this path to your Google Drive (Previously Google Docs) account for accessing it later and it even save the track in GPX, KML, CSV or TCX file formats. For desi use, if you're travelling by a taxi or auto, you can record how much distance you traveled and from which areas you traveled in that places. Isn't it Truly useful?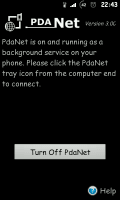 This application is used for internet tethering. Android phones also do have inbuilt function of internet tethering, but when your trying to use internet services of phone on computer and you have USB drivers blocked for external drives, then default driver of android will not work and this is where this application came handy. It's desktop version application install all drivers required by any android phone to support internet tethering. So, my main use of this app is to access few blocked websites sometime such as Facebook or Twitter. This application will ensure everything that internet may work on your pc.

This is another application i simply love it. I am a person who get bored of his music collection very often and because of this application, i am never away from new music present in market. SAAVN is a website which offers there visitors to listen to songs online and has a huge collection of Hindi, Punjabi as well as Tamil Songs in their database. And while using it's app on phone, i simply run this option to play any random song or select anyone playlist with some nice song of collection in it and listen to it online. Using this application, you'll never need to store a single song in your SD card. I use this application even when i have 2G data pack activated on my no.. It really works.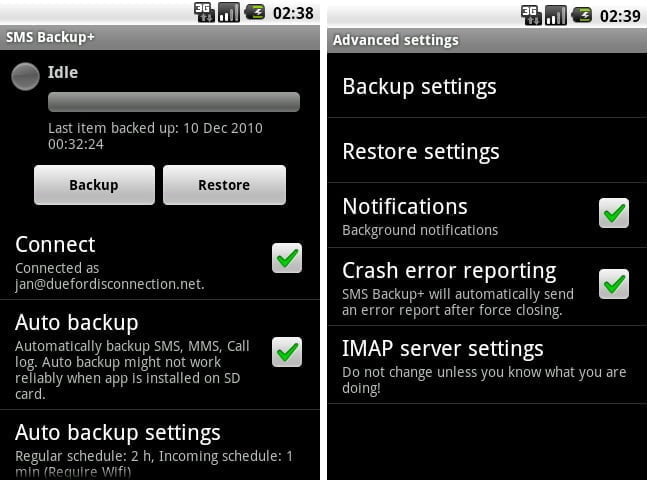 This application keep sending backup of my SMS and Calls logs to my Gmail & Google Calendar. However i don't use option of saving in Google Calendar though. This is a very useful application in terms of online backup of your SMS and call logs. It would create labels in your Gmail account and will save SMS and Call Logs accordingly. It can even restore SMS from Gmail to your phone back but that is a very slow process. This application may be everyone not like it but i like it very much.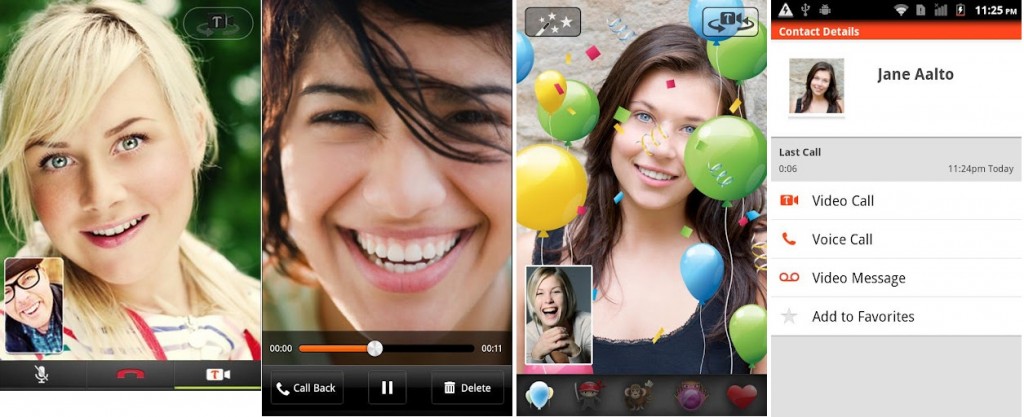 This is one of the best application i use for Video calling. I know Skype is also out there for video calling but i personally like this application more because of its video quality and sound. I usually don't do much video calling, but with whomsoever i do, we all had this application installed.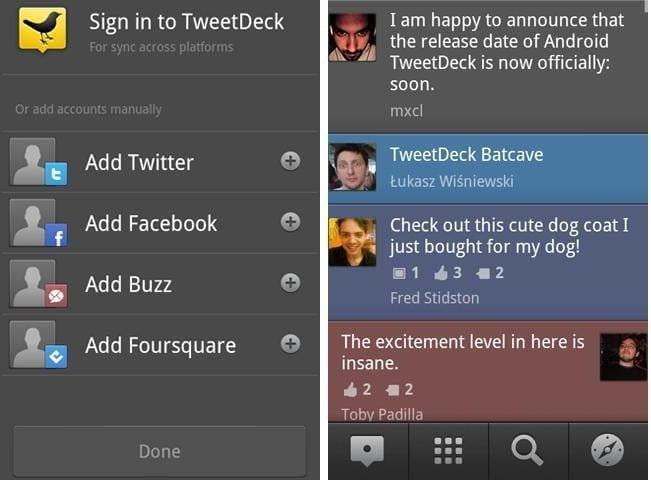 This application i use for accessing twitter. It is like a social browser mainly for Twitter and supports other social networking website as well like Facebook and Foursquare. I don't like native app of Twitter and this application is fast and supports push notifications as well. Also it supports for having a widget on your phone home-screen too. I also use desktop version of this app too at home.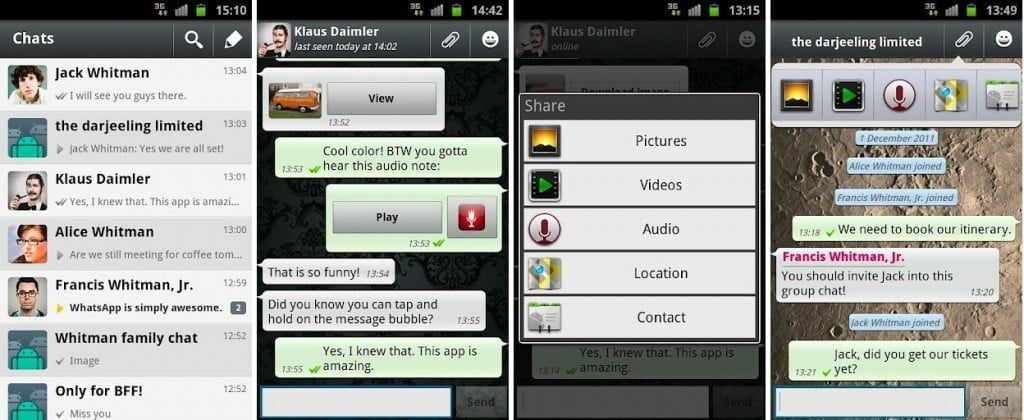 This application is simply awesome because of the features it has and the availability of it on almost every operating system like Android, iPhone, Blackberry, Windows or even on Symbian Phones. Because this application can be installed on any smartphone outside, lots of friends of mine are using this application and it keeps me in contact to all the near and far with whom i want to interact all the time. This application also supports sending images, videos and even voice notes to your friends and contacts. And why it is more awesome because it find out friends from your phone book who are using this application and you actually don't need to add'em for saying a "Hi". All the friends who are on WhatsApp automatically began showing from your contacts after installing it.
Now you must be wondering, why i mentioned Vodafone in article title. What's so special fun by having on Vodafone network and having internet services from them. Now i am going to list out some special services being offered exclusively by Vodafone only:
Vodafone Apps Vstore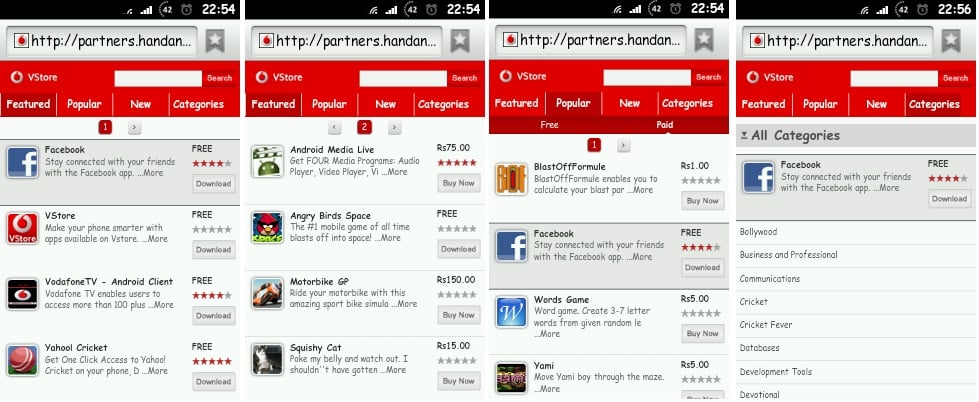 Vodafone apps Vstore offers over 10,000 free applications and a good collection of paid application's for your phone. This app store is available to both prepaid and postpaid customers over its 23 circles. You can access the Vstore by visiting this url – http://m.vodafone.in/vstore specifically only on your phone. This site will not work if you're accessing it from your desktop or if your using wi-fi. It has applications for every operating system your phone is working on whether its Android or Blackberry or any other. Upon visiting above said url, you'll be presented with a list of featured apps along with option of categories. If you selected category option, you'll be showed a list of application categories available and upon clicking any application category, you'll be presented again with a list of application related to that category. Again some applications are free to download and some application are paid. You'll be displayed with a list of only those application which your phone supports. This is because why this website doesn't work on wi-fi so that it may show you right list of application your phone supports. I personally like the collection of apps they're offering because it's free of clutter if compared to other apps market and shows you only best applications to use from.
Vodafone Games Vstore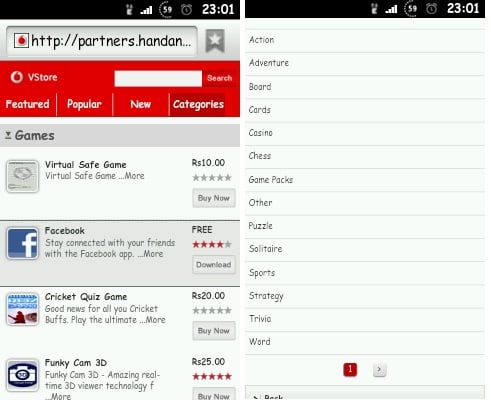 This is a huge collection of games apps by Vodafone Games Vstore. You can find these games by going to Games category listed down under Categories option on the url – http://m.vodafone.in/vstore as i said above. They have well organized games into various categories and i see lots n lots of games for my android phone too. Also the collection of games is quiet good and i am sure everyone would love it. This is a collection of both free and paid games. The price of paid games varies in a range of Rs. 5 to Rs. 150. Also there is a game being offered by Vodafone which you can play on desktop and you can win prizes too by playing it, you can visit the game here.
Vodafone Music Store
Vodafone also offers an online service where you can download 5 songs daily on cost of Rs. 5 per day. This is one of the best offer being offered by them as it is quiet cheap too. You can search for your favorite songs in there collection and also if you want you can set alerts for top songs too. You can visit this store by visiting this url http://live.vodafone.in on your phone.
Download Wallpapers And More Stuff
Vodafone Live website also offers to download wallpapers, videos, animation, themes and tones at cost of Rs. 1 per item. There are lots more things which they offer from to time. You can visit the site on above said url.
Download Opera Mini (Vodafone Version)
Vodafone Live website also offers a special version of Opera Mini browser for its customers. Opera mini is the fastest browser known till date on mobile phones which renders and load a website more faster than native browser by compressing data on there own server and serving it in compressed form loads the webpage fast. You can find the download link to download this browser at Vodafone Live website as i said above.
Recharge On The Go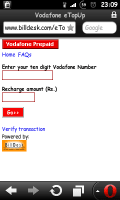 Vodafone also offers its prepaid customers a service to recharge there mobile via phone only. All you need to visit http://m.vodafone.in/rechargeNOW and you will be presented with a page to get your phone recharged. If you want to recharge your Vodafone mobile phone on desktop or laptop, use this link.
I really hope that you must have gained a lot from this whole list. If you liked this post, do share it with your friends.
Also this post is a part of Contest Internet is Fun, on Indiblogger, being sponsored by Vodafone. If you want to know more How Internet is Fun on Vodafone, please visit http://www.vodafone.in/fun.